Snapshot: German Language Students Sing Bilingual Carols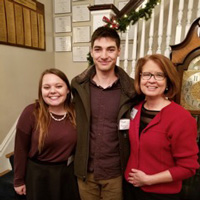 German language students from the Department of International Languages and Cultures students of German attended the German American Heritage Society (GAHS) party on Sunday, Dec. 10, in the Alumni House to entertain the members and enjoy some German specialties.
Webster students Alex Dippold, Matt Margulis and Zoey Bruce sang carols in English and German and talked about their plans for study abroad in Vienna.
The Society provides an annual scholarship for students going abroad to study the German language and be immersed in the culture. The scholarships are granted annually by the GAHS and St. Louis Stuttgart Sister Cities (SLSSC) for students going to Europe to take German classes through Webster University.
The GAHS supports German studies in a German speaking country, either Germany or Austria and the SLSSC supports several German exchange in the Stuttgart area, Webster's sister city in German.