Webster Student Wins German Young Professional Fellowship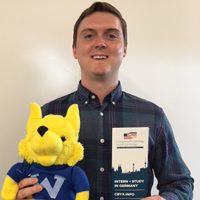 Jake Bennett, a Webster University student majoring in International Relations with a minor in German, has been awarded the coveted Congress-Bundestag Youth Exchange for Young Professionals (CBYX) fellowship.
The immersion program, funded by the German Bundestag and U.S. Department of State, annually selects 75 American and 75 German young professionals between the ages of 18-24 to spend one year in each other's countries, studying, interning, and living with hosts.
CBYX is open to candidates in all career fields who are interested in a year of academic, professional, and cultural exchange.
The program consists of three phases:
Two months of intensive German language training (applicants need no German)
Four months of classes in one's academic or career field at a university, technical or professional school
Five-month internships in one's career field
Bennett heard about the program from Webster faculty and from Webster's last CBYX awardee, Jenna Hopkins (2016-2017), as well as from the German student awardee currently here at Webster, Pauline Schramm.
"I took full advantage of Webster's globalized curriculum and educational opportunities," Bennett said. "These unique experiences at Webster developed my cultural and educational faculties, a foundation for success in this cultural and diplomatic exchange between the U.S. and German governments."
Bennett, whose international relations and German programs are offered within Webster's College of Arts & Sciences, also credited Webster faculty and staff for preparing him for what's to come.
"I am grateful for the wonderful professors, colleagues, and international exposure that I could only have gotten at Webster University, and I strongly encourage students to take advantage of the global opportunities that Webster offers – being a Gorlok will take you far."
Those interested in this and other exchange opportunities in Germany should contact Paula Hanssen, associate professor of German and chair of International Studies (hanssen@webster.edu).