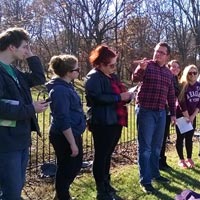 On the 25th anniversary of German re-unification, German language faculty and students at Webster University and Saint Louis University met for an immersion experience, cooking authentic German meals together, watching a German film, and participating in a variety of activities that engaged students in cultural learning and exploration.
They met Nov. 6-7 at the Lay Center for the Education and Arts, where activities included a scavenger hunt about German culture, German poetry, discussions and even a campfire.
The activities focused on giving students a sense of what life was like in the East and West sides of Germany before the fall of the Berlin Wall and the re-unification of the country. Students created family stories about life in East Germany, created posters similar to those at the demonstrations against the Berlin Wall, tweeted about the collapse of the wall, and discussed Germany's role in the contemporary refugee crisis.
"These weekend immersion experiences expand students horizons right here at home, where they acquire new vocabulary for specific situations, more cultural knowledge by playing the games and using teamwork for learning, and having fun with their peers and their instructors," said Paula Hanssen, associate professor of German, head of German Studies and chair of International Studies in Webster's Department of International Languages and Cultures.
"We also cover contemporary issues, such as an activity discussing Germany and its leading role in the on-going refugee issue. Our Department of International Languages and Cultures offers other versions of these immersion experiences too."
For more on studying German and other languages and cultures at Webster, visit the Department of International Languages and Cultures.