Wunderbar: German Intensive Weekend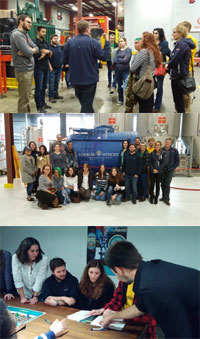 Sixteen students and three professors from Webster University got together on Friday, April 8, and Saturday April 9, for the German Intensive Weekend.
The weekend was a great opportunity for German students to use the language they study in various situations and to build fluency. They enjoyed using the language out side of the classroom in real contexts. "This was the third German Intensive Weekend I attended; it was also the best one by far!," said Samuel Meyers, German studies major.
The Intensive kicked-off with a tour at the Urban Chestnut Brewery, which was given in German by owner Florian Kuplent. Kuplent is from southern Germany and was happy to share his language and culture with Webster University students. After the tour, students enjoyed a typical German dinner at Urban Chestnut. They then spent the evening conversing in German and playing traditional German games.
The next morning, everyone met at the Alumni House for a traditional German breakfast. Students learned about the dishes and helped the professors to prepare the meal. After breakfast, students conducted research for context and then carpooled to the Art Museum in Forest Park to find German art and paintings. This allowed students to speak about styles of art from Germany and how artists from different eras reflect society.
Saturday ended with outdoor fun. The German teaching assistant grilled traditional German food. Everyone ate together and continued to converse in German, while playing other traditional games.
The International Languages and Cultures Department offers Intensive Weekend courses in German, Japanese and Spanish once per year.