Webster Ghana Celebrates Black History Month with Partners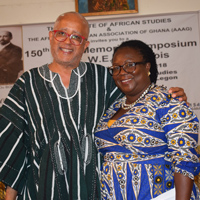 In celebration of this year's Black History Month, Webster University's Ghana campus partnered with the W.E.B Du Bois Centre, the U.S. Embassy in Ghana, and the African-American Association of Ghana (AAAG). During Black History Month, special efforts are made to highlight historical figures and events in Africa and the African diaspora.
This year, the focus of the commemoration of Black History Month in Ghana was on the legacy and global impact of noted American civil rights activist and Pan-Africanist, W.E.B. Du Bois. Feb. 23, 2018, marked the 150th anniversary of his birth.
The campus hosted a one-day symposium where academic director Michael Williams contributed to a panel discussion on the life of Du Bois and his role in the Pan-African movement. Professor Audrey Gadzekpo, member of the Webster Ghana Advisory Board, also spoke on this panel.
Gadzekpo spoke on the contributions of Shirley Graham Du Bois, the wife of W.E.B. Du Bois, to Pan-Africanism in general and to post-independent developments in Ghana in particular.
Du Bois' great-grandson, Arthur McFarlane II, travelled from Denver, Colorado, United States, to lead a wreath-laying ceremony at the W.E.B. Du Bois Centre and gave a number of public lectures. Du Bois was buried in Ghana after having spent the last few years of his life in the country. Ghana was the first country in Sub-Saharan African to have gained its independence from colonial rule on March 6, 1957. The country has become the destination of choice for African Diasporans in search of an ancestral connection with Africa.