Ghana Public Lecture Dicusses African, Chinese Economics, Culture, and Development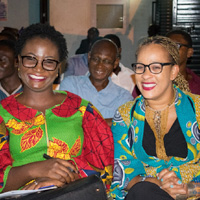 Webster Ghana hosted a public lecture, "Africa and China: Economics, Culture, and Development," as part of its inaugural "Ghana at 60" public lecture series.
The lecture topic was intended to showcase Webster University's international relations program, which has been a popular program for both undergraduate and graduate students at the campus in Accra, Ghana, since Webster began offering it there in 2014.
The public lecture--the seventh in the series--engaged intellectual minds on the economic ties between Africa and China, in terms of trade, aid, and investments, which is increasingly becoming phenomenal.
The speakers took turns examining the following four themes:
The Role of Cultural Exchange in Africa-China Relations
Trade, Aid and Investment Relations between Africa and China
Development Strategies for the 21st Century: The Washington Consensus versus the Asian Model
Africa – China Partnership and Shared Values
Speakers included Webster Ghana International Relations faculty member Agnes Khoo-Dzisi and International Relations alumnus Noble Kofi Nazzah.
Other presenters from the University of Ghana were Lloyd G. Adu Amoah, faculty and acting director of the Centre for Asian Studies (CAS), and Meilian Mei, director of the Confucius Institute.
Following the panel discussion was a question and answer session. Nearly 100 participants attended, ranging from students, faculty from various institutions, as well people from corporate institutions and security agencies.