Office of Study Abroad Hosts Ghana Morning Meet and Greet Sept. 28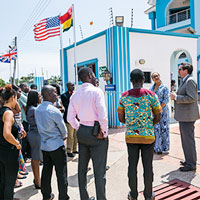 The Office of Study Abroad is hosting a Ghana Campus Morning Meet and Greet Friday, Sept. 28 from 8:30-10:30 a.m. for students, faculty, and staff. Adelina Martey, a representative from the Ghana Campus, will be visiting St. Louis to connect with students interested in studying abroad in Ghana. Coffee, tea and breakfast pastries will be provided by the Office of Study Abroad.
Webster Ghana opened in March 2014 and is located in Accra, the capital city of Ghana. Webster Ghana's diverse student population, international faculty and student-centered approach to learning makes the campus not only unique but a truly global university.
To RSVP to the Morning Meet and Greet, email worldview@webster.edu.