Support Webster Student Funds on Give STL Day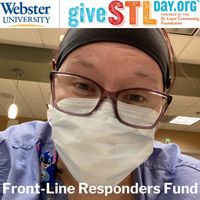 Give STL Day, the annual day to mobilize support for St. Louis area nonprofits, is Thursday, May 7.
For this year's Give STL Day, Webster University is focusing on supporting the emergency funds that were created to help students, staff and other urgent needs.
Check Webster's Facebook for posts throughout the day with stories of our students who could use support to get through these challenging times.
For example, Dakota Harmon, Class of 2021, is a student and an emergency room nurse. Her words represent so many of our students working at their own risk to help other people:
"I've always wanted to be the person that stands between illness and health. I went to a FEMA training for COVID-19 when we had only one person testing positive in the states, just so I could be prepared to handle this back in my ER. I tested positive for COVID-19, so I was not allowed to work for two weeks. A gift would help me get back on track."
No gift is too small. Support one of these funds through the Give STL Day page here.