Webster Boosts Giving Participation on Give STL Day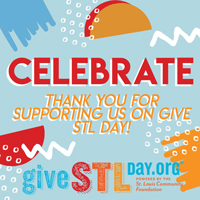 In a challenging year when donations were projected to be down as much as 30%, donations to Webster University on Give STL Day surpassed last year's gifts by 14%. A total of $6,484 was donated by 76 donors, a 46% increase in donor participation over last year.
Webster University Chancellor Beth Stroble and her spouse, Paul, were so moved by the generosity of the Webster community, they made a dollar-for-dollar match to raise the total donations to $12,970.
Give STL Day, powered by the St. Louis Community Foundation, is an annual day of giving for the community to come together to support St. Louis-area nonprofits.
Among the donors to Webster through the one-day event, held on May 7 this year:
24 staff and faculty members made donations
23 donors were alumni
12 donors made gifts to the University for the first time
8 alumni donors were graduates from the 2000's, represented the largest decade group of alumni donors
18 donors gave anonymously
The average gift was $85.31 (excluding the Strobles' matching gift)
The donations will benefit three emergency funds created to assist students, staff and urgent needs created by the COVID-19 crisis.
The effort for these funds -- Front-Line Responders Fund, Gorloks Now! Fund, and Chancellor's Vision Fund --continues throughout May. You can join the effort through our crowdfunding site at webstergives.webster.edu.
Thank you to all of our donors!