Support Give STL Day 2018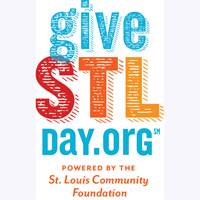 Give STL Day 2018, sponsored by TD Ameritrade and powered by the St. Louis Community Foundation, is on May 2 and is bringing the St. Louis community together to support and enhance local nonprofits like Webster University.
Just imagine the impact we could have on Webster students if we all come together to give on this day. When participating in this day, please consider showing your support for your students and peers at Webster as well as the St. Louis community, because you are vital to our continued success.
Webster President Beth Stroble and Paul Stroble have agreed to personally match every dollar given to Webster University up to $10,000.
Learn more at Givestlday.org, mark your calendar for May 2, and show how generous St. Louis can be!

Contact the Office of Advancement with any questions, 314-968-5964.
About STL Community Foundation
The St. Louis Community Foundation has been helping St. Louisans put charitable dollars to work since 1915. They are a respected source of information for donors as they seek to clarify the goals that guide their giving. In addition, they help donors assess the resources they have to give and connect them with charities, which are aligned with their goals and doing effective work.
The Foundation also serves as an experienced administrator of charitable funds and provides the customized giving tools that make giving easy, maximize tax benefits, and give donors confidence that their dollars are making a real difference in the lives of others.
The Foundation has more than 600 individual charitable funds that exceed $500 million in assets. On behalf of its donors, the Community Foundation makes approximately $80 million in grants annually to nonprofits that help shape our region, touch communities across the nation, and extend around the globe.