2018 GLA Cohort Announced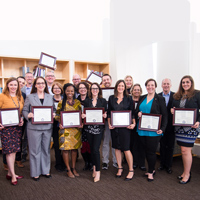 The 2018 cohort of Webster University's Global Leadership Academy has been announced.
Congratulations to these faculty and staff, who will bring a diverse range of perspectives from throughout the network to their journey together in 2018.
Ernest Boakye – librarian, Ghana
Carolyn I. Brown – Writing Center & Plagiarism Prevention coordinator, Academic Resource Center
Merideth Daly – coordinator, School of Communications
Baichun Feng – associate professor, Department of Business, George Herbert Walker School of Business & Technology
Carmen (Caite) Hall – assistant director, Little Rock Air Force Base
Adriel Hilton – director, Myrtle Beach Metro
Rosedilla (Rose) Janson – librarian, Thailand
Pamela Kramer – development officer, Advancement
Laura McMaster – Walker School core faculty and advisor, Charleston
Mark Shannon – academic advisor, Little Rock Metro/Air Force Base
Dustin Smith – assistant professor, Department of Management, George Herbert Walker School of Business & Technology
Melissa Spriggs – adjunct professor and program director - Human Services, Department of Nursing, College of Arts & Sciences
William Tippin – adjunct professor, Department of Management,

George Herbert Walker School of Business & Technology,

National Capital Region
Jeffrey Wilke – director, Camp Lejeune
ABOUT THE WEBSTER UNIVERSITY GLOBAL LEADERSHIP ACADEMY
Now preparing for its sixth year, the Global Leadership Academy (GLA) at Webster University helps build the distributed leadership that is critical to Webster's success. President Beth Stroble and Provost, Senior Vice President, and Chief Operating Officer Julian Schuster created the Global Leadership Academy to develop talent within the University that is essential for achieving its vision.
The goals of the GLA are to develop and enhance the leadership skills of faculty and staff at Webster University and to provide a comprehensive and grounded understanding of Webster in all its complexity. Each year these goals are advanced as a cohort of fellows study and practice relevant leadership topics in workshop settings, as well as engage in activities designed to complement the curriculum.
The GLA provides a diverse environment with meaningful experiences that help fellows learn and use the tools required to break down barriers and effectively respond to opportunities and challenges facing Webster University.