GLA Opens Spring 2017 Session in St. Louis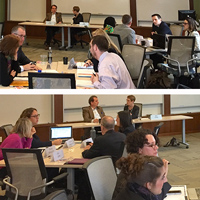 The 2017 cohort of Global Leadership Academy (GLA) fellows met as a group in person for the first time Monday morning, part of a week of learning and collaboration activities together at the home campus in Webster Groves.
The fellows were welcomed by President Beth Stroble and Provost, Senior Vice President and Chief Operating Officer Julian Schuster, who led a morning session based on trends in higher education.
The fellows compared nationally-identified trends from the Chronicle of Higher Education in February with additional trends we are seeing at Webster and examined how the strategic plan has positioned the University to be prepared to confront these trends.
Prior reading for the morning session included The Chronicle's 2017 Trends Report, the Council of Independent Colleges (CIC)'s "Mission-driven Innovation: An Empirical Study of Adaptation and Change among Independent Colleges," Webster's strategic plan ("Global Impact for the Next Century") and other related readings on the current and future higher education landscape.
Later activities on Monday include a group session on fellows' expectations for GLA, a session on "Understanding the Webster Network" with Vice Provost Nancy Hellerud, as well as a campus tour led by students.
About Global Leadership Academy
The Global Leadership Academy (GLA) is a leadership development program open to the faculty and staff of the Webster University global community. GLA fellows are selected each year to participate in a series of workshop and activities that help them to lead successfully in their roles and positions within the University.
Applications from faculty and staff are solicited in the fall for participation in the next cohort.