Global Leadership Academy Summer Session Opens in Thailand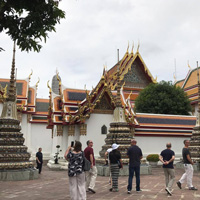 The summer session for the 2017 Global Leadership Academy opened this past weekend in Thailand. Adjusting to jet lag after Saturday arrivals, they began Sunday with a cultural tour of Bangkok followed by group lunch and individual project team dinners in the evening.
Monday's international campus focus began with a presentation on leading an international campus by Webster University Thailand interim director Keith Welsh and team, including Nisha Ray Chaudhuri, Samrat Ray Chaudhuri, and Phillip Gwaltney.
Welsh spoke about the challenges of leading as a Westerner in a hierarchical society like Thailand and the importance of operating with great respect for the culture in which his team works. One of his suggestions for leading in a cross-cultural environment is to talk little and listen a lot.

Nisha Ray Chaudhuri encouraged the fellows to always look at the impact of every decision on the students and on the faculty. She spoke about the challenges of aligning policies and process with the norms and climates of the institution, but with some examples from her experience, how that alignment can be achieved. She addressed the benefits and difficulties of operating in a diverse environment, how this can enrich your work experience and yet you must navigate biases related to age, culture, and gender.

Gwaltney spoke on student life and the challenges of supporting students as they learn to understand and respect the diversity they experience at Webster University Thailand, where six percent of the students are Thai while 94 percent come from other countries in Asia and around the world.
During Monday's lunch the fellows heard from a panel of graduate students who study at Webster's Bangkok Center.
Leadership Symposium in Bangkok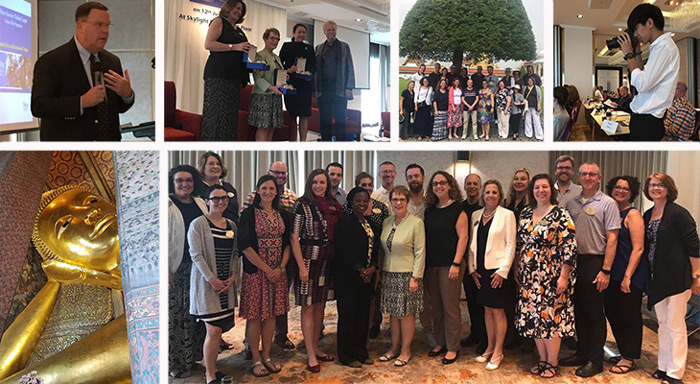 The afternoon featured a global symposium on leadership, "Sufficiency Economy Philosophy: Its History and Role in Government, Business and Education," providing important orientation to Thai culture.
Sufficiency Economy Philosophy (SEP) is a set of principles articulated by the His Majesty, the late King of Thailand. Simply put, it is a system of thought which argues that people's happiness and well-being should be rooted in the concept of "having enough," of being self-sufficient, and of leading sustainable lives. This philosophy informed the king's many public works projects.
Linking SEP to the teachings of Buddha's middle way, Welsh described it as an aspirational response to the excesses of many societies today. It involves sustainability, growing and maintaining one's society, wisdom, and a reasonable and mindful acceptance of luxury within reason.
The session, moderated by dean of Webster libraries Laura Rein, included Welsh, Webster University President Beth Stroble, and Nada Chunsom, assistant professor an dean of the Graduate School of Development Economics at the National Institute of Development Administration.
Tuesday's activities are highlighted by leadership and personality discussion and reflection by David Pendleton, and lunch with Julian Schuster, Webster's provost, senior vice president and chief operating officer.
The cohort will remain in Thailand's capital for the first half of the week before relocating to Cha-Am and Webster's campus there. Their week in Thailand is part of their second full week of in-person cohort activities in the 2017 GLA.
About Global Leadership Academy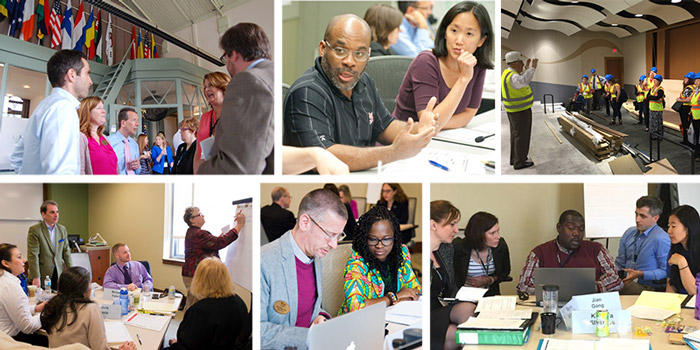 The Global Leadership Academy (GLA) is a leadership development program open to the faculty and staff of the Webster University global community. GLA fellows are selected each year to participate in a series of workshop and activities that help them to lead successfully in their roles and positions within the University.
Applications from faculty and staff are solicited in the fall for participation in the next cohort.