Join GCP Collaboratory Sessions Online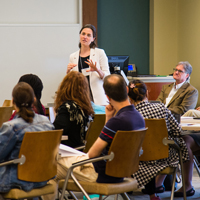 The ninth annual Global Citizenship Collaboratory will be held Tuesday, May 21, and Wednesday, May 22. Faculty, students and academic partners are invited to visit the Collaboratory website to see this year's programming.
The annual Collaboratory provides a space for the Webster community to share research, collaborate across disciplines, strengthen assessment practices, and explore new directions related to teaching and learning.
For those wishing to join the program remotely, the following sessions will be streamed and video made available after the event on the GCP website.
Times for online-accessible session listed below are CDT. See the full program schedule at the GCP website:
Tuesday, May 21
10:30-11 a.m. Opening Remarks: "Contracts Don't Make Horses Drink"| Streaming: www.webster.edu/live/

Bruce Umbaugh, Director, Global Citizenship Program
11 a.m. - 12 p.m.: Plenary Remarks, Important Developments | Streaming: www.webster.edu/live/

Nancy Hellerud, Vice Provost: news and updates
Eric Rothenbuhler, Dean, School of Communications: retention initiative update
Kyle McCool, Director, Graduate Advising: Student Success Portal (Starfish)
Carla Colletti, Associate Professor, Dept. of Music: GCP Committee updates
Tara Campbell, Representative, Conservatory of Theatre Arts: Merit Recognition website
Wednesday, May 22
9-9:30 a.m.: Meet the Artist Lecture Series as a Learning Platform to Integrate the Arts Across the Undergraduate Curriculum in Geneva | Streaming: www.webster.edu/live/

Julianna Sandholm-Bark, Assistant Professor and Head of Global Citizenship Program, Webster Geneva
9:30-10:45 a.m.: Learning Happens Everywhere: Student Perspectives on Integrative Learning Outside the Classroom | Streaming: www.webster.edu/live/

Justin Barton, Director, First Year Experience and Undergraduate Persistence
Kim Kleinman, Director, Undergraduate Advising
Vanika Spencer, Coordinator, First Year Experience and Undergraduate Persistence With Webster student panelists Ethan Canby, Danielle Robinson, Honoka Takato, Justin Klos, Khyle Buchanan
11 a.m. - noon: Where the Flagstones End: How to Ask Questions About the Curricular Student Experience | Streaming: www.webster.edu/live/

Erik Palmore, Director, Faculty Development Center
3-4:15 p.m.: Assessment: What Counts as Data? | Streaming: https://websteru.webex.com/websteru/j.php?MTID=m1af1ca2a2eac495f64da25791046b352

Marissa Cope, Assessment & Accreditation Analyst, Office of Institutional Effectiveness
The purpose of this session is to provide a basic overview of the assessment cycle: Plan-Do-Check-Act with a particular focus on types of data and the best methods for collecting the data needed to provide evidence for effectiveness. Data collection options and tools for course outcomes, program-level outcomes, and GCP skills will be reviewed and discussed.