Resources from 2018 Global Citizenship Collaboratory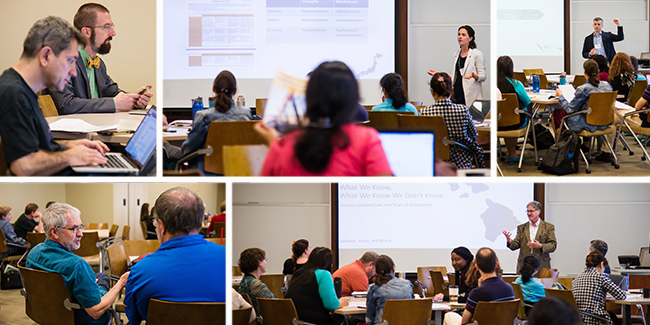 On May 21-22, Webster University hosted the eighth annual Global Citizenship Collaboratory, with guests from Webster's international campuses and over 80 faculty, staff, and students participating.
The annual Collaboratory provides a space for the Webster community to share research, collaborate across disciplines, strengthen assessment practices, and explore new directions related to teaching and learning.
This year's Collaboratory theme, "Making Every Course Excellent: Developing Skills to Support Lifelong Success" invited the Webster community to consider the intersections between skills instruction, engaging technologies, student motivation, and continuous improvement.
Highlights of the event included sessions on teaching Global Citizenship Program (GCP) skills such as oral communication and critical thinking, and plenary activities related to assessment, planning, student success, and Webster's technology ecosystem. Attendees also had the opportunity to analyze data from the past four years of GCP assessment, and to consider that data across various parameters, such as student characteristics and campus location, in order to better understand the broad impact of the GCP.
The entire Webster community is invited to view resources from the event, including videos, handouts, and presentations, at the event website: https://spark.adobe.com/page/45RLVbz2ACkDG/