Join the Fun! Global Game Day April 6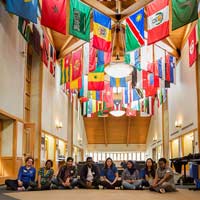 Webster University is known for global diversity and inclusion, but sometimes students are so focused on their academic responsibilities that they don't get the chance to mingle! Global Game Day is an interactive event meant to bring International Students and American students together.
The event will be held in Sunnen Lounge on April 6, between 3-5 p.m. Global Game Day is collaboration between the Society of International Languages and Cultures, English as a Second Language, the Japanese Student Association, the Center for International Education, and the International Student Association.
These five groups have organized an afternoon full of icebreakers and games that will provide students a chance to meet new people, laugh about language differences, find things in common, and have fun! Students, faculty and staff are welcome to attend. Light snacks will be served. This is the first time the event will be hosted, but the collaborators hope that it will become an annual event.