Snapshots: 2017 Global Game Day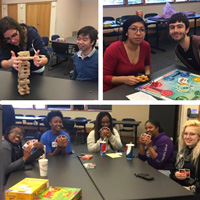 The International Languages & Cultures (ILC) Department in Webster's College of Arts & Sciences hosted the second annual Global Game Day on Thursday, March 23, in the University Center.
The ILC collaborated with Campus Activities, ESL, UFGC, JSA, and MCISA in continuation of the idea of #WeAreAllWebster.
The event gave International and domestic students a chance to interact and make new friends through playing games together.
The highlight of the event was a student-led scavenger hunt with clues written in five different languages around the University Center. The winning team was awarded with fun prizes.
The ILC thanks everyone who collaborated and attended and plans to host this event again next year.