GLA Spring Week Wraps with Focus on Leadership, Student Experience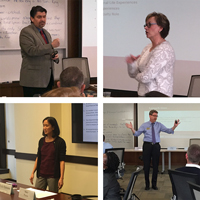 The 2017 cohort of Global Leadership Academy (GLA) fellows is spending the year working around the theme of "Informed advocacy for engaged leadership."
This theme is framed in five sessions delving deeper into the lifecycle of the student from recruitment through the alumni experience.
The group's spring week together in St. Louis wrapped up with Webster experts explaining how different points in this cycle are handled.
On Thursday, the fellows heard from Eric Rothenbuhler, dean of the School of Communications, about prospective students and why and how we recruit them from a dean's perspective.
The fellows then ventured out to individual meetings to role play as "students" in the recruitment process and learn about the units on campus serving this population.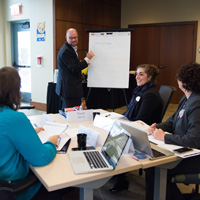 In "Setting Students Up for Success," Jennifer Broeder (GLA 2012), interim dean of the College of Arts & Sciences and associate professor of Nursing, and Ted Hoef, associate vice president and dean of Students, discussed the importance of services and processes that support current students to ensure that Webster retains and best serves them.
The day wrapped up with a simulation designed by John Buck (GLA 2014), associate dean of Students and director of Housing and Residential Life, and Basiyr Rodney (GLA 2016), associate professor in the Department of Teacher Education.
The fellows worked through cases where fictitious students faced challenges and needed support from the University. Erica Ellard, director of the Academic Resource Center, Bethany Keller (GLA 2017), assistant director of the Multicultural Center and International Student Affairs (MCISA), and Stephanie Mahfood, assistant professor, Department of Teacher Education, joined the simulation team in a panel to discuss several of the scenarios in depth.
For each session, GLA fellows had advanced reading assignments for relevant literature on the topic.
Their week wrapped up Friday with the fellows examining their own leadership strengths and discussing four frames of leadership, before spending time on team projects they will develop throughout this year.
Their next time together as a group will be at Webster University Thailand this summer.
Previously This Week
About Global Leadership Academy
The Global Leadership Academy (GLA) is a leadership development program open to the faculty and staff of the Webster University global community. GLA fellows are selected each year to participate in a series of workshop and activities that help them to lead successfully in their roles and positions within the University.
Applications from faculty and staff are solicited in the fall for participation in the next cohort.