GLA Focus on Students as Learners, Understanding Network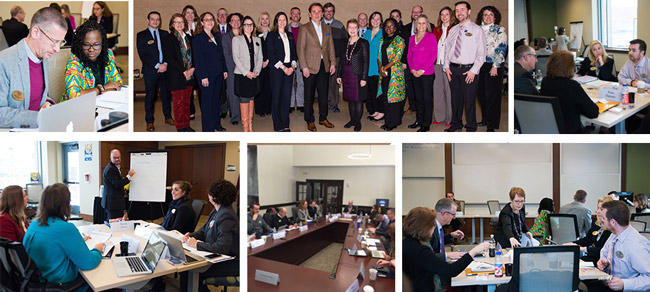 The 2017 Global Leadership Academy fellows' spring week in St. Louis continued Tuesday and Wednesday with examinations of ways to support students as learners, with presentations from Institutional Effectiveness, the Faculty Development Center, the dean of the School of Education, a student panel and leaders of metro campuses.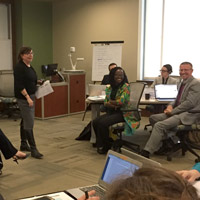 After a welcome and session on trends in higher education with President Beth Stroble and Provost Julian Schuster on Monday, the fellows had a two-part session with Vice Provost Nancy Hellerud on understanding the worldwide Webster network.
Tuesday's "Students as Learners" series began with a session led by Brenda Fyfe, dean of the School of Education.
To expand on Fyfe's topic three follow-up sessions included:
"Perspectives on Learning," with Justin Bitner, interim director of the Office of Institutional Effectiveness
"Grades Aren't Real," with Carla Colletti, associate professor, Department of Music
"Enacting Our Shared Values," with Liza Dister, coordinator, Faculty Development Center
Student learning was then viewed through a student lens as the fellows heard directly from a panel of students.
Wednesday morning brought a focus on Webster's network of campus locations, in particular the metropolitan locations in the United States.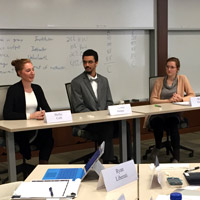 They visited the Arcade Building, home to Webster's Gateway Campus in downtown St. Louis, where they heard from Thao Dang-Williams, dean of extended campus education, and Donavan Outten, associate vice president of extended U.S. campuses.
Dang-Williams and Margaret Hooks shared the challenges that our St. Louis are extended campuses face, how they are using data to find and recruit students, and the ways they are personalizing their relationships with students to best serve them.
Outten approached the topic more broadly as he discussed leading the U.S. metro campuses. He shared how he leads from a distance, how he sells Webster in his day-to-day interactions with the people he meets, and how the metro campuses are finding creative ways to recruit and serve students.
The fellows had lunch with several students from the Gateway campus and rounded out the day with presentations from Erik Palmore, director of the Faculty Development Center, and Mary Preuss, associate professor and department chair of Biological Sciences, about the importance of networks in working effectively and leading from where you are.
The week will wrap up Thursday and Friday with visits from deans Eric Rothenbuhler, Jenny Broeder and Ted Hoef, plus group project and personal strength activities with GLA directors Laura Rein, Holly Hubenschmidt and Erik Palmore.
About Global Leadership Academy
The Global Leadership Academy (GLA) is a leadership development program open to the faculty and staff of the Webster University global community. GLA fellows are selected each year to participate in a series of workshop and activities that help them to lead successfully in their roles and positions within the University.
Applications from faculty and staff are solicited in the fall for participation in the next cohort.