Cohort Selected for 2019 Global Student Leadership Summit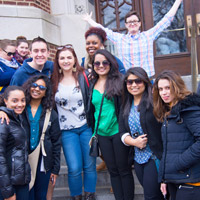 A cohort of 23 student leaders from Webster University campuses in St. Louis, Geneva, Vienna, Leiden, and Accra have been selected for the Webster University 2019 Global Student Leadership Summit (GSLS), to be held in St. Louis, May 27-31.
The students form a diverse group representing 14 nationalities from Webster campuses in five countries and include undergraduate and graduate students.
Each participating campus conducted interviews to select the students to represent their campus. Once chosen, participants completed an online non-credit course prior to attending the summit.
About the Summit
The GSLS provides a unique opportunity for Webster University student leaders to gain knowledge and skills, and create positive change in a global environment.
The summit includes interactive sessions focused on leadership development, communication, intercultural competency, and social responsibility, plus a local excursion, and outstanding networking with fellow students from throughout the Webster global network.
The 2017 summit, held in Vienna, Austria, produced six campus-based action plans, allowing the student participants to implement positive change in student involvement on their home campuses. To highlight a few:
The Geneva cohort worked to increase the involvement of incoming students using the LEADS program.
The Vienna cohort instituted town hall meetings to improve communication within the campus.
The Leiden cohort created a Webster Leader Board to enable interaction and collaboration between clubs on campus.
The St. Louis cohort created awareness campaigns and events to increase SGA voter turnout.
The inaugural summit, held in 2015 at the St. Louis campus as part of the Centennial celebration, resulted in plans to repeat the program every two years and rotate its location around Webster's international campuses, with respective campuses supporting the students they send to the summit.
2019 Summit Cohort
Students (with major, year) in the 2019 cohort represent five campuses and home countries that include Azerbaijan, Croatia, Ghana, Iraq, Italy, Kazakhstan, Macedonia, Nigeria, Pakistan, Taiwan, Thailand, Ukraine, United Kingdom, and United States.
St. Louis, MO, United States
Andrea Barajas, Animation, Senior

Megan Crenshaw, Biology, Junior

Cheyenne Davis, Biology and English, Sophomore

Vincent Fedorko, Speech Communications, Sophomore

Sarah Hill, Political Science, Freshman

Emma Larson, Journalism and English, Sophomore

Liah Neudecker, Scriptwriting, Junior

Andy Pham, Psychology and Game Design, Sophomore

Parichat Seagrave, International Human Rights, Junior

John Wallis, Speech/Communication Studies and International Relations, Sophomore

Matt West, Secondary Education: Social Sciences, Sophomore
Vienna, Austria
Valentyn Trehub, International Relations and Economics, Sophomore

David Ilioski, International Relations, Junior

Helena Vukelja, Management and Psychology, Junior

Ali Rasulov, Finance, Graduate
Leiden, The Netherlands
Artyom Napolskiy, Psychology, Junior
Neha Purswaney, International Relations, Junior
Accra, Ghana
Aliyu Abba Bako, International Relations, Sophomore
Ellen Aboah, International Relations, Graduate
Geneva, Switzerland
Yasmin Mehboob-Kahn, Media Communications, Sophomore
Aya Abdullah, Media Communications, Sophomore
Martina Castiglioni, International Relations, Junior
Zain Abbas, Computer Science, Sophomore
GSLS Planning Committee
Katie Knetzer, director of the University Center
John Buck, associate vice president for student affairs/dean of students
Billy Ratz, director of parent engagement
Jennifer Stewart, director of student engagement
Christine Benninger, student services coordinator at Leiden
Clara-Maria Koeck, student resource officer at Vienna
Kristina Shimkus, student affairs director at Geneva
Adelina Martey, student affairs coordinator at Ghana
Lisa Camp, graduate assistant for campus activities and GSLS 2017 alumni