Leif J. Sverdrup Global Teaching Fellowship: Faculty Mobility Applications for Fall 2019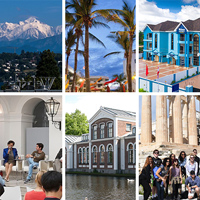 Applications are open for the Leif J. Sverdrup Global Teaching Fellowship for Fall 2019. The Leif J. Sverdrup Global Teaching Fellowship is the university's in-network faculty mobility program open to full-time and adjunct faculty.
The program provides the opportunity for faculty members across the Webster network to travel to teach at one of the following Webster international campuses: Athens, Geneva, Leiden, Vienna, Accra, Cha-am/Bangkok, St. Louis (main campus and Gateway campus).
The Sverdrup Global Teaching Fellowship funds airfare, housing, visa fees, international health insurance and some incidental costs. Full-time faculty must have completed at least one academic year at Webster and adjunct faculty must have taught at least six courses at Webster, to be eligible to apply.
Applications
The submission deadline for Fall 2019 application has been extended to Friday, Nov. 2.
Please click here for further information and to access the online application.
Info Sessions
There will be informational sessions held through WebEx on Tuesday, Sept. 11, 9-10 a.m. (CST) and Thursday, Sept. 20, 11 a.m. to 12 p.m. (CST) open to all Webster University faculty. Please RSVP here.
If you have specific questions, please contact at hannahverity72@webster.edu.