GMC Wins Industry Awards for Conservatory, Browning Hall Promotions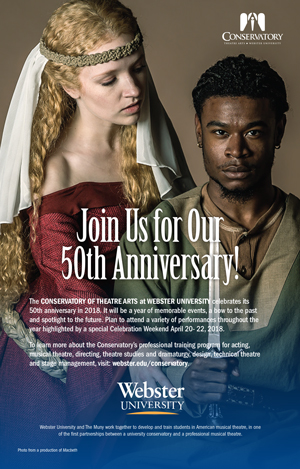 Webster University's Global Marketing & Communications unit has earned five more industry awards for advertisement, print production and video work that promoted two major University initiatives in 2017-18.
In February, the 2017 Collegiate Advertising Awards announced that Webster received awards for magazine advertising (Conservatory of Theatre Arts 50th Anniversary ad, silver) and special video production ("The Sciences at Webster University," silver).
This month, three more awards were announced by the 15th Annual Service Industry Advertising Awards (SIAA). Webster was recognized with gold (Conservatory 50th anniversary) and bronze awards (Browning Hall Dedication and Academic Symposium) for magazine advertising, and a merit award for the brochure promoting the Browning Hall Dedication and Academic Symposium.
The 50th anniversary events recognize the storied history of student theatre at Webster, leading to the Conservatory becoming one of the most respected and renowned programs in the country.
Check out further on-going promotion for the Conservatory 50th anniversary by GMC in this continuing series of videos that highlight the quality of teaching, student support, and outcomes in the program.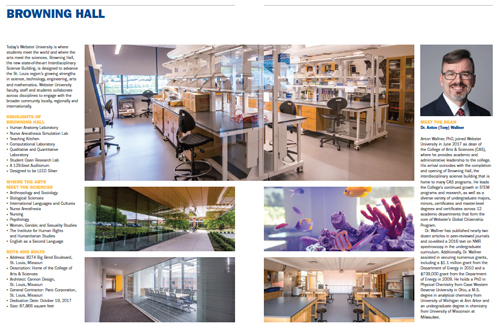 The Browning Hall dedication and academic symposium were held in October.
The ads and brochure for the events highlighted the growth of the sciences at Webster, as well as the way the new interdisciplinary science building creates opportunities for deeper collaboration across academic fields and further engagement with the community.
See photos and highlights from the dedication and symposium events in this story.
The award-winning "The Sciences at Webster" video featured alumni, students and faculty discussing the history and future impact of science programs at Webster University, with a focus on hands-on science under the mentorship of faculty members and the kinds of new opportunities made possible with Browning Hall. The video was used in promotion and played for donors and attendees at events during the week of the dedication and symposium.
Watch "The Sciences at Webster" here:
Key staff members behind these award-winning creative projects include GMC graphic designers Casey Conroy and Donna Franquemont, photographer Inocencio Boc, videographers Karen Burch and Ryan Smith, media and marketing planner Erin Rivers, and strategic communications director Dominik Jansky.
See other recent awards and portfolio examples of GMC's work promoting Webster here.