Webster Staff Member Makes Masks for Local First Responders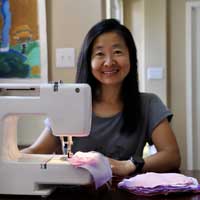 SAN ANTONIO, TEXAS - Anyone who has seen the news in the past month knows that there is a national shortage of face masks caused by the COVID-19 pandemic. Hospitals, emergency workers, and front-line employees in grocery stores and other places that deal with the public are desperately seeking masks to keep everyone safe. This also includes members of the general public who are learning that some stores will no longer allow them in without a face mask.
Fortunately, there are people like Jian Gong, Web Services Analyst at Webster University's San Antonio Metro campus, who have decided to do something about it. She has formed a group called San Antonio Chinese Alliance Face Masks Group (SACAFMG), which consists mainly of Chinese women from the community, and which makes masks in their homes for local first responders. The masks are donated to those who need them, and the labor they provide is free of charge.
The initiative started as a campaign called Masks for Heroes, run by the Mitchell Chang Foundation, which was working to fund the building of an all-inclusive playground in the community. "When this pandemic came, they switched their attention to making masks, and I was really moved by their initiative, so I joined," Gong said. "Over a two-week period, the Foundation donated 7855 masks to 66 units among 11 hospitals."
About 1,200 of those masks were made by Gong and her friends.
"I asked my friends 'who wants to join me?' And to my surprise, in the past two weeks, about 50 people joined me in my small community," Gong continued. "We made these with a lot of attention. We're constantly discussing how this can be better, which style strap they need—straps that go behind the ears or around the head. The different designs and colors of the masks make people feel happy and loved and cheer up the patients and healthcare workers."
Originally from China, Gong said that the effects of mandatory facemask wearing in China was one of the reasons she felt it was so important to make sure people in her local community had access to masks. "The whole population in China is very big and the personal distance is very close, so masks are making a huge difference over there," Gong said. "Over here it should be the least we can do."
The Mitchell Chang Foundation recently closed its donation activity, Gong said, because they filled all their requests. "But SACAFMG has remained together and continues making masks as long as there is need, because there are so many people supporting us and they have donated a lot of material to us," she said. "We've distributed probably over 2,000 masks since forming on March 30."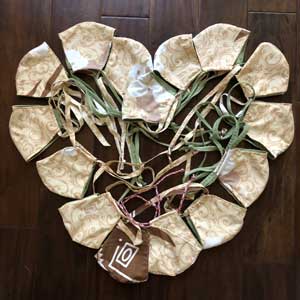 According to Gong, the materials that are donated have to meet certain requirements. "It has to be all brand-new material, 100% cotton, and it has to be at least 180 thread," she said. "The sheets I donated were 550 thread, and my friend told me it was too strong because it broke the needle on her sewing machine."
The weekend of April 11, Gong said that one of her teammates, who works at a local detention center hospital, requested 100 masks for her coworkers that they would need on Monday the 13th. Within the next 24 hours, her and her team collected materials from the community to make the masks with.
"Saturday night, several ladies sewed very late. Our goal was 100, and we donated over 215 by the next day," Gong said. "Some of the ladies were sewing. Some of them were buying stuff, some of them were driving around to share the materials, so we have different jobs, and it's going really well. Some people don't have sewing machines, so they sew by hand."
But Gong and her team's impact didn't stop there. "We donated 18 to a young doctor and her colleagues. And another 50 went to a local research place where we know someone who works there. Then 58 to another department," Gong said. "And now, one our ladies is driving around and collecting 500 to donate to the local school districts because there are some workers distributing free lunch and breakfast to all the kids throughout the school districts every day, and they need the protection."
Overall, between their work with the Mitchell Chang Foundation and their own individual efforts, SACAFMG has made over 2500 masks since April 11, according to Gong. "These masks were donated to various local organizations including, but not limited to 796 to the local school district, 258 to the Detention Center Hospital, 108 to some essential units in UTSA, and 60 to a local shelter," Gong said.
Gong said that she and her sewing colleagues are doing this as a way to give back to the community. "I think it's the same for every lady in this community. It's everyone's responsibility. Everyone wants to help to end this pandemic and keep everyone safe, especially those who risk their lives to protect all of us."
"We bring a positive energy to the community, and we are really helping the healthcare workers, she added. "We believe we can get through this together."