Fall 2017 Gorlok Great Nominations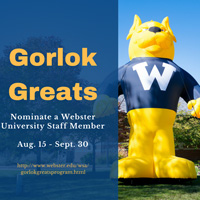 Created by Webster Staff Alliance, the Gorlok Greats Award recognizes staff members whose achievements, whether an individual act or sustained effort of exemplary service, relate to Webster University strategies and support the University's values and mission.
There are up to six awardees for each nomination term. See additional criteria, guidelines and the nomination form at the WSA Gorlok Greats page.
Nominations for Fall 2017 are being accepted from Aug. 15 through Sept. 30, 2017.