Gorlok Greats Award Winners Spring 2020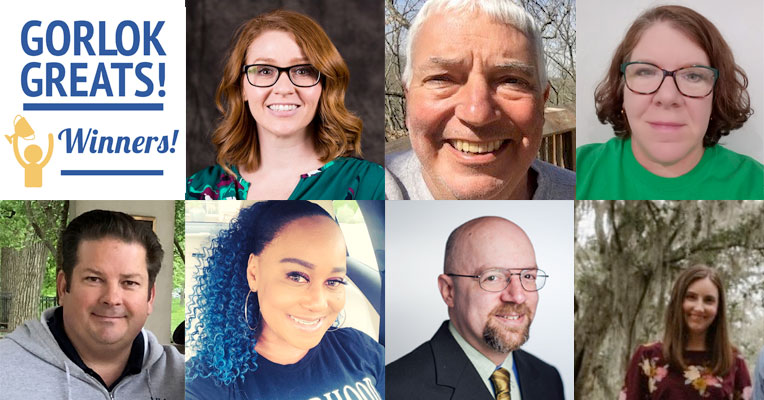 The Gorlok Greats Award recognizes staff members whose achievements, whether an individual act or sustained effort of exemplary service, relate to Webster University strategies and support the University's values and mission.
This spring the Webster Staff Alliance received nearly 50 nominations for this distinguished award and a dedicated committee selected seven exceptional employees from across the Webster Network.
Check out the Gorlok Greats website to find out more about the program and next nomination period.
Spring 2020 Gorlok Greats: Winners, nominator comments
Julie Altmann, Representative, Office Manager, Academic Advising Center, Webster Groves
Nominated for: Demonstrating a steady willingness to improve work operations without prompting or fanfare and consistently providing high quality, reliable and critical work that, if undone, would halt highly visible operations.
"Julie is the backbone of the Advising Center. As the Office Manager for the Center, Julie provides support to both the undergraduate and graduate teams. She manages the call center, but her work extends beyond daily operations. She also manages and facilitates the Graduate Tuition Refund process and committee, the NEW student waitlist process, graduate student pre-req checks, the late withdrawal process, and recently took on the management of the Petition to Graduate for all levels of students. Julie is an idea person – always looking for ways to make things better for students, more streamlined, efficient, and consistent. The scope of the work that the Advising Center has is great – serving both undergraduate and graduate students, in Webster Groves, online, across the U.S. There is a large amount of information to manage, a high volume of student calls and emails to handle, and a need to triage all student emails and calls either into on-call, appointments, or a response. The work requires great attention to detail, nimbleness, and accuracy, Julie recently was asked to provide administrative support for the Student Success Portal, powered by Starfish. She works with IT to identify the courses that need to be loaded in all 3 term/semester surveys – Attendance Verification, Early Term, and Mid Term. The total amount being 18 per year that need to be managed. There's so much more that Julie does that I have not even touched on – replying to the OMA and Starfish email accounts, coding military tuition, assisting with CARS/CX. I could not do my job without Julie. She is my go-to person for everything. She keeps things moving and running smoothly. I appreciate all that she does – she's a crucial part of our organization. She helps me, our team, and our students every day with her high quality work."
"Julie is a valuable piece to Webster that often gets overlooked or goes unnoticed. Her official title is Office Manager of the Academic Advising Center, but she is so much more than that. Julie does so many things that people don't even realize. She answers all of the emails that come in to the advising@webster account, but she also answers email that go to the Office of Military Affairs email account, the Starfish account, plus her own email. She is the one who sets up and monitors all of the surveys for faculty in Starfish, early term progress survey, attendance verification survey, etc. Julie monitors the waitlists for all graduate classes and makes sure students are able to get into a class. She handles all of the late withdraws, for the graduate students, tuition coding for all military students, and so much more Julie is a vital part of this University and should be recognized for all of the hard work that she does. There are many issues that arise that Julie takes care of, without any processes or functions skipping a beat. Julie deserves to be recognized as a Gorlok Great, for all she does for the Advising Office and the Webster University."
Teresa Barnes, Interim Director, Luke Air Force Base, Arizona
Nominated for: Investing time and effort into coaching and mentoring and consistently providing high quality, reliable and critical work that, if undone, would halt highly visible operations.
"Ms.Barnes, has taken a personal interest in the mentoring relationship. She does do not take her responsibility as a mentor lightly. Barnes has invested plenty in the success of myself. Barnes is knowledgeable, compassionate, and possesses the attributes of a good teacher or trainer. Excellent communication skills are also one of her strongest strengths. Overall Barnes has empowered myself and many others to develop our own strengths, beliefs, and personal attributes."
"In my professional and humble opinion, I nominate Ms. Teresa Barnes for the Gorlok Greats Award. Justification: From the very outset of requesting application for the Webster graduate program, Ms. Barnes has been very professional, efficient, and courteous with not only me, but also all others that I have observed. She has coached and mentored others and me through various course selections as we try to navigate our way through the process. Ms. Barnes, always humble, never losses focus regardless of any situation that I have observed. In addition, she takes time away from her studies and troubleshoots IT problems for the evening classes. Always prompt and gets the job done with a smile. Every student knows Ms. Barnes, and every student loves Ms. Barnes. She has built a reputation for herself and Webster University as a first class organization. She often goes out of her way to check on students and follow-up on previous issues students have raised. A true assets for Webster University and students alike. I would be proud to have Ms. Barnes on my team now as well as the future. If there is only one Gorlok Great Award to be presented, then Ms. Barnes is my choice and I would sincerely hope that she would be Webster's choice as well."
"Since day one, my interactions with Teresa Barnes have been the sole reason why this process to get my master's degree has not overwhelmed me. I have tried so many times in the past to start this process, but something always derailed me. From the beginning, Ms. Barnes was encouraging and helpful. She answered all of my questions, was very responsive, made me feel like she was there for me, despite having so many other clients. She helped me push my classes to a new semester and made sure all of my paperwork was in order for the VA. I have not had a single hiccup or set back since starting this process started and I have almost successfully completed my first two classes with my next two already set. I am just so thankful for this woman's hard work and dedication to the mission, the program, and the students."
Kara Carline, Coordinator - Catalog, Curriculum, and Communication, Academic Affairs, Webster Groves
Nominated for: Consistently providing high quality, reliable, and critical work that, if undone, would halt visible operations.
"Program Review is putting a lot of stress on the Curriculum Committee and will continue to do so in the years to come. Kara has the immense job of organizing and providing feedback to all departments making curricular changes. She provides concise feedback, has a good eye for detail, and keeps us running under stressful deadlines. She is a valuable collaborator and I endorse her for a Gorlok Greats Award."
"Kara goes above and beyond when it comes to making sure the catalogs are held to their highest standards. Her dedication to making sure the catalogs don't "break" when new courses are created, taking time from her reviews to work one-on-one with faculty members, and her overall attitude while under immense pressure and stress prove her dedication to Webster and its students. She is more than just the catalogs, but this is her critical role in helping to keep Webster running."
Benjamin Fasching-Gray, Librarian, Library and Learning Center, Vienna
Nominated for: Investing time and effort in coaching and mentoring.
"Ben is a fountain of knowledge and he readily shares it with anyone who asks. There is not a book he can't locate and he is always more than happy to help students, staff and faculty find, or figure out, what they need. Aside from being the best librarian one can ask for, Ben's commitment to fostering an equal opportunity environment is another of many reasons why he deserves a Gorlok Greats Award."
Kimberly Ocasio, Representative, St. Petersburg, Florida
Nominated for: Contributing to University mission, values, and goals and consistently providing high quality, reliable and critical work that, if undone, would halt highly visible operations.
"Kimberly is an asset to the St. Petersburg Campus. She takes the time needed with each individual student to ensure that their needs are met. In addition, she follows up timely and thoroughly with students as well as other campuses. Kim often goes above and beyond her role to ensure that the day to day operations of the campus are met. Her efforts and teamwork with us here play a major part in the recruitment and retention of students. Never saying I don't know.... she always elevates questions and concerns until she is able to obtain or problem solve an answer. With little recognition Kim has been dedicated to her role and all other needed roles she is asked to fill. I believe she is more than deserving of The Gorlok Greats award!"
"I have known Kimberly Ocasio for over 5 years starting when I was a Webster MBA student. With my current role at Webster (Business Advisor - part time), I would say Kimberly is an excellent team worker. Her willingness of assisting students and colleagues is an exemplary service to all. I believe Kimberly Ocasio has contribute Webster University's mission, values and goals in her 10+ years of service and therefore I highly nominate Kimberly for the Gorlok Great awards as she met the criteria and well deserve recognition!"
Mark Paule & Justin Young, Maintenance Technicians, Facilities Operations, Webster Groves
Nominated for: Consistently providing high quality, reliable, and critical work that, if undone, would halt visible operations.
"It would be fallible to mention one without the other. I understand that we should only nominate one individual and I could honestly nominate our entire crew of technicians, although these two stand out individually for their knowledge and time here at Webster. To know Mark and Justin is also to improve your knowledge of our campus, its buildings and the inner-working's of every department. As I have watched over my 4+ years with Webster, I know they are valuable and essential when our department needs quick accurate information to address a repair or another type of correction to the buildings and their systems. They have shared their knowledge freely with all in the department and any newcomers, they also make a point to deliver this information in an exceptional attitude that brings the Webster mission to light each and every time. I could highlight each and every criteria and these two fill them all. They both understand not only the needs of students, faculty and staff, they understand the importance to respond quickly to eliminate whatever problem and make sure everyone feels like their at home, as they do it. Their pride helps deliver a cloak of protection and sense of calming as they go about their work. With so many different buildings, different forms of equipment and the wonderful growth of technology with the newly acquired Browning Science Building, they stay focused and up-to-date on our task to keep everything running smoothly. Through my 25+ years in maintenance and repairs, I can say these two are exceptional in the way they approach their jobs, thoughtful and mindful of those that it affects, with vision to improve and develop better and fluid ways to improve our department and University. I have no doubt that all nominated are deserving, I see the dedication and determination in so many across our campus to have Webster University be an exceptional campus and leader in the community and abroad. I also know the pride that my team members, department and Mark & Justin will feel to know they could join the list of exceptional Gorlok Greats."
Other Gorlok Great Nominees
It's clear that Webster University has an abundance of incredible employees. While there are only six Gorlok Greats Award winners each semester, Webster would like to recognize all of the extraordinary nominees. These individuals help push Webster to the next level.
Nominees include: Allison Scheuler, April Clark, Barb Thoele, Carolyn Brown, Dana Sprehe, Dan Ayres, Dawn McCracken, Debbie Ray, Deidree Dino, Emily Miller, Hollis Bush Jr., Jennifer Gammage, John Lee, John Pyle, Kacey Pennington, Laura Medeiros, Maggie Dankert, Malika Baratova, Mary Claire Sorensen, Michael Zakibe, Mitch Scheperle, Mouhanad Mourad, Nancy Haparimwi, Nora Binder, Petra Bocus-Thurn, Rachel Johnes, Safak Mocuk, Sarah Navarrete, Sharon Phillips, Susan Tomey, Vildana Kurtovic, William Houth, Zarnigor Rakhmonova.