Graphic Design Showcase Dec. 6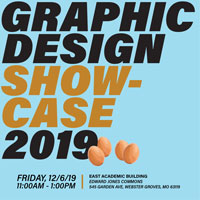 The Graphic Design Showcase is an open portfolio review event during which graphic design students will present their most recent digital and print portfolios.
Students will have their portfolios displayed on Friday, Dec. 6, from 11 a.m.-1 p.m.in the East Academic Building's Edward Jones Commons. Students will be prepared to offer explanations and answer guests' questions. Local designers, art directors, and human resources representatives with an interest in design are encouraged to stop by to meet our talented Graphic Design students. Faculty members and other Webster students are also encouraged to attend.
This is an excellent opportunity to meet Webster University Graphic Design students while reviewing and offering feedback on their design work. Students will benefit from the opportunity to present and receive feedback on their work while networking with local professionals.
While an RSVP is not required, we encourage you to let us know you're coming. Click this link: Graphic Design Showcase to let us know you're coming. Refreshments will be provided.
Graphic Design Showcase
Friday, Dec. 6
11 a.m.-1 p.m.
East Academic Building, Edward Jones Commons