Scholarship Awarded at Graphic Design Conference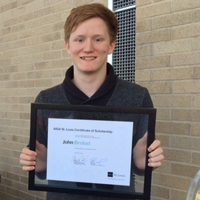 Graphic Design students from the Leigh Gerdine College of Fine Arts attended the annual AIGA St. Louis Student Design Conference this past weekend.
Through AIGA, students are able to be involved in the local design community and have access to invaluable resources and opportunities, which can help smooth the transition between being student and becoming a professional.
Thanks to funding from the Student Government Association (SGA), 22 graphic design students had the opportunity to meet guest speakers, attend workshops and networking events. Senior graphic design student John Brobst received the AIGA STL Student Scholarship Award. This is the second year in a row that a Webster graphic design student has won this award.
Seniors also had the opportunity to have portfolios reviewed by local professionals. One of the conference speakers was Webster University alumnus, Ross Bradley. The other featured speaker was Claudia de Almeida, a Brazilian designer from New York.