Discuss Global Issues with Webster Faculty in Great Decisions 2018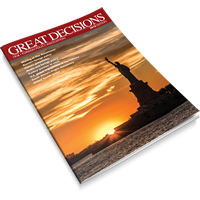 Alumni, students and members of the Webster University community are invited to Great Decisions 2018, the ever-popular series of current events presentations and discussions led by Webster University faculty and sponsored by the Webster University Alumni Association.
The schedule this year will run eight consecutive Monday evenings, March 5 through April 23.
Each talk begins at 7 p.m. in the Browning Hall Auditorium, Room 160. Reservations are requested by March 2 as space is limited. You can register online or by calling the Alumni Office at 314-968-7149.
Tours of Browning Hall, the Interdisciplinary Science Building and new home to the College of Arts & Sciences, will be available at 6:15 p.m. on March 5th and April 2nd.
Topics in 2018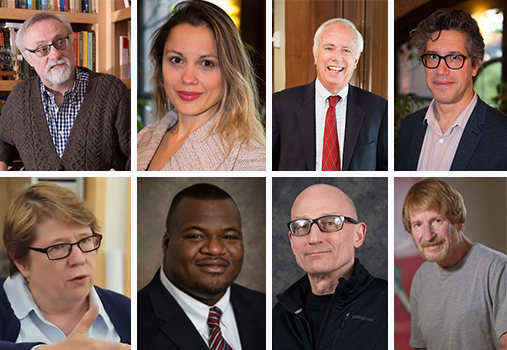 The Great Decisions series provides a revealing look at eight of the most significant and far-reaching challenges facing the world today.
Topics this year include:
March 5 - The waning of Pax Americana by Dan Hellinger, professor emeritus, History, Politics & International Relations
March 12 - China and America: The new geopolitical equation by Barbara Hufker, adjunct faculty, History, Politics & International Relations
March 19 - Turkey: A partner in crisis by Burcu Pinar Alakoc, assistant professor, History, Politics & International Relations
March 26 - South Africa's Fragile Democracy by Emmanuel Balogun, assistant professor of History, Politics & International Relations
April 2 - U.S. Global Engagement in the Military by John Aleshunas, professor, Math/Computer Science
April 9 - Media and Foreign Policy by Art Silverblatt, professor emeritus, Media Communications
April 16 - Global Health: Progress and Challenges by Jim Brasfield, professor emeritus, Health Management.
April 23 - Russia's Foreign Policy by Warren Rosenblum, professor, department chair, History, Politics & International Relations
The $30 Great Decisions 2018 Briefing Book, which is required for participation in the series, features impartial, thought-provoking analyses on the eight topics selected for this year's series. Each article is written by carefully selected experts, and offers questions and tools for discussion, as well as policy options for U.S. officials. The book may be ordered online through the Foreign Policy Association or in person at the World Affairs Council of St. Louis Office on Olive Street.
For additional information about Great Decisions 2018, contact Corinne Hilbert at 314-246-5961 or CorinneHilbert@webster.edu.
About The Great Decisions Program
The Great Decisions Discussion Program is the Foreign Policy Association's public education initiative to create more informed and engaged citizens by bringing people together to discuss U.S. foreign policy and global affairs issues. The Webster University Alumni Association is one of many Great Decisions groups throughout the country. Founded in 1918, the Foreign Policy Association is a nonprofit organization dedicated to inspiring the American public to learn more about the world.