View Final Presentations for Global Student Leadership Summit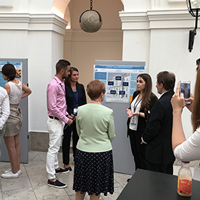 The 2019 Global Student Leadership Summit (GSLS) kicks off May 27, and community members are invited to see students' final presentations on Friday, May 31.
This cohort of undergraduate and graduate student leaders from Webster campuses in five countries has been collaborating this spring via online classroom, learning about leadership models and preparing for the weeklong summit, which this year takes place at the Webster Groves campus.
The summit includes interactive sessions focused on leadership development, communication, intercultural competency, and social responsibility, plus a local excursion, and outstanding networking with fellow students from throughout the Webster global network.
Students will be grouped in Action Plan teams based on their campus, as well as inter-campus Case Study teams to work on case studies that provoke further reflection and analysis as part of their GSLS experience.
The students will also be paired with faculty/staff mentors, selected and strategically matched based on their leadership profiles. The mentors will help listen, coach and guide the students during the week of the summit.
Join them for presentations at the culmination of the summit next week:
Action Plans: Friday, May 31, 1-2 p.m., University Center Commons
One of the most critical components of the Global Student Leadership Summit is the creation of an Action Plan that is implemented at each home campus during the Fall 2019-Spring 2020 academic year. GSLS representatives from each campus will work together to develop this action plan during the program.
The purpose of the Action Plan is to increase meaningful student involvement on each campus and build connections within the Webster global network. Students are asked to lead from where they are, through their role as a student leader. The action plan is not an appeal to administration or a budget request. It's an opportunity for a team of student leaders to work together to make positive change for students on each campus.
Case Study Presentations: Friday, May 31, 2-3:30 p.m., University Center Sunnen Lounge
With the guidance of a group mentor, teams of GSLS students analyze and attempt to resolve the dilemmas posed within the case study. They have received the actual case study in phases throughout the summit, culminating in this final presentation of their analysis.