Global Student Leadership Summit Concludes in Vienna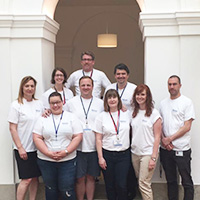 "Leadership is hard. Look around the room. You've now got all of these people in your corner, to help you go back out for more rounds to fight the good fight as student leaders." -John Buck, associate dean of students, addressing student leaders at the Global Student Leadership Summit

On June 10, the 25 student leaders attending the Global Student Leadership Summit (GSLS) in Vienna concluded their final formal day of the Summit by participating in final preparations on their action plans and case study, poster and case study presentations, and a graduation ceremony with remarks by President Beth Stroble and Provost Julian Schuster.
The student leaders from each campus created action plans designed to increase student involvement and to strengthen connections between student leaders at all of the campuses represented at the Summit. They will be expected to meet with the student life staff at their home campuses on an ongoing basis to work on mplementation of these action plans over the course of the 2017-18 academic year.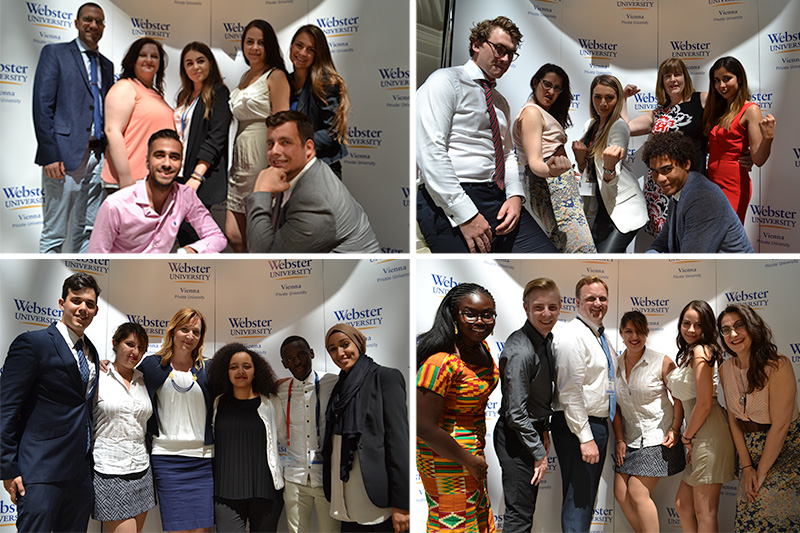 In small groups, the student leaders grappled with a complex case involving a controversial art and photo exhibit focused on the refugee crisis at a fictional university in Iceland. The case was revealed in multiple parts over the four days of the Summit. In the last stage, each group learned of a unique complicating factor that caused them to rethink some of their previous assumptions. On Saturday, the groups presented their findings and recommendations.

At the graduation ceremony, Katie Knetzer recognized each of the mentors, who then presented graduation certificates to each of the students from their small groups. Each student received a GSLS commemorative coin from Vienna director Johannes Pollak and then posed for an official photo with President Stroble.

After a final reflection session, the students, mentors and facilitators had a closing dinner at a local Vienna restaurant. Many students commented that the Summit was a life changing experience. Following the Summit, many of the students spent Sunday together visiting sites around Vienna and forming even closer bonds, prior to traveling back to their respective campuses.
Special thanks to Jesse Alexander and other members of the Vienna campus team for being wonderful hosts for the 2017 Summit.
The next Summit will be held in 2019 at one of the Webster international campuses.
View the previous GSLS recaps:
GSLS on Social Media
View more photos of the Summit on Facebook, Instagram and Twitter through the #WUGSLS17 hashtag, or at the Facebook photo album.
As a signature event of the University's Centennial Celebration, from June 5-9, 2017, 25 student leaders from throughout the worldwide network of Webster University campuses have gathered in Vienna to discuss leadership and advocacy. The Summit provides a unique opportunity for Webster University student leaders to gain knowledge and skills, and create positive change in a global environment.
By developing relationships with peers from throughout Webster's global network, participants will gain a better understanding of the impact student involvement has on students and Webster University worldwide. The Summit includes interactive sessions focused on leadership development, communication, intercultural competency, and social responsibility, plus an excursion in Vienna, and outstanding networking with fellow students from throughout the Webster global network.