Students Assess Communication Skills, Discuss Fake News at Global Summit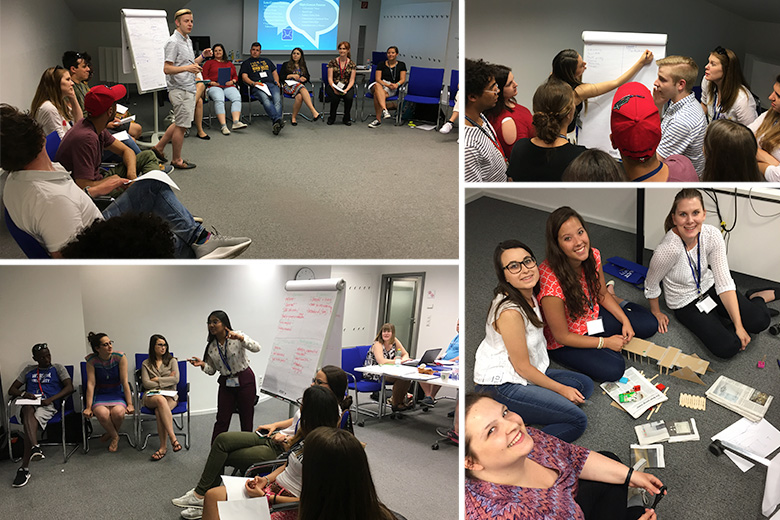 Voluntary exchange generates positive results. For the Global Student Leadership Summit (GSLS) in Vienna, the results include community and camaraderie.
On Thursday, June 8, the 25 student leaders attending the Summit participated in the following sessions:
Pursuing Self-Interest: The Economics of Leading facilitated by John Buck
Roundtable Discussions, facilitated by Jen Stewart
Intercultural Communication Session 2: The Communication Challenge facilitated by Jenn Christ
Global Topic Discussion – Fake News, facilitated by Ted Hoef
Case Study facilitated by John Buck
The student leaders selected fake news as the global topic that they wanted to discuss. They researched and shared articles on the topic, discussed ways to address the issue in both a global and local environment, and reflected on ways that they might engage students on each of their campuses in discussions about global issues.
In small groups, the student leaders are doing a multi-part case study revolving around a controversy at a fictional university in Iceland. Each group will make a presentation of their findings and recommendations on the last day of the Summit.

On Friday, June 9, the program included:
Comments on leadership from President Beth Stroble and Provost Julian Schuster
A session featuring three Vienna alumni who attended GSLS 2015
A discussion about an inclusion pledge
A session on creating change, using the Social Change Model of Leadership, facilitated by Ted Hoef
Session #2 on StrengthsQuest, facilitated by Katie Knetzer and Jen Stewart
Intercultural Communication Session #3: Conflicts with Values and Bridging the Cultural Divide, facilitated by Jenn Christ
More work on their case studies, facilitated by John Buck
View the previous GSLS recap: Global Student Leadership Summit Underway in Vienna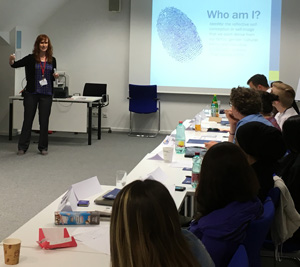 GSLS on Social Media
Student Julia Schaubach from Vienna is hosting the MyWebsterU Instagram account this week. Be sure to follow that account for photos of her experience at the Summit.
View more photos of the Summit on Facebook, Instagram and Twitter as participants share their experience using the #WUGSLS17 hashtag.
As a signature event of the University's Centennial Celebration, from June 5-9, 2017, 25 student leaders from throughout the worldwide network of Webster University campuses have gathered in Vienna to discuss leadership and advocacy. The Summit provides a unique opportunity for Webster University student leaders to gain knowledge and skills, and create positive change in a global environment.
By developing relationships with peers from throughout Webster's global network, participants will gain a better understanding of the impact student involvement has on students and Webster University worldwide. The Summit includes interactive sessions focused on leadership development, communication, intercultural competency, and social responsibility, plus an excursion in Vienna, and outstanding networking with fellow students from throughout the Webster global network.