Nurse Anesthesia Students Provide Medical Assistance in Guatemala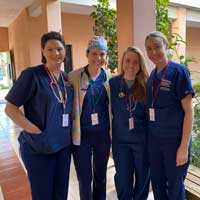 ST. LOUIS - Four third-year Nurse Anesthesia students spent a week in San Raymundo, Guatemala, in February as part of a medical mission trip with Refuge International. Laura Kohler, Ana Gregory, Liz Schneider and Demi Nichoalds accompanied 24 other volunteers from all over the country to the rural Guatemalan city to provide much needed medical assistance to the community. Three of the four students sat down with Webster Today to discuss their experience.
According to Kohler, Gregory, and Schneider, the community relies on volunteers such as them. "The clinic is volunteer-run," Kohler explained. "If there are no volunteer groups at the clinic, there are no health services available for that area."
Kohler said that the surgeries they assisted with during their week in the country ranged from gynecological and gall bladder procedures to hernia repairs and pediatric operations. "We were located at a clinic that did both surgical and clinical services, and we functioned on the surgical side of the clinic," Kohler said. "The surgical team completed 46 surgeries while we were there, so we stayed very busy every day. As registered nurses that are completing doctoral level anesthesia training we provided anesthesia during the intraoperative period in addition to also providing preoperative and post-operative care for patients."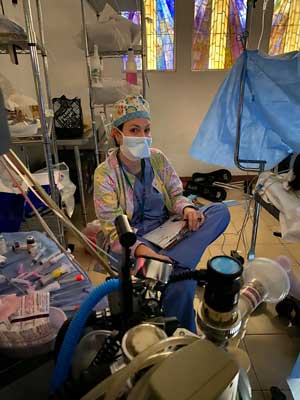 The students said that their takeaways would impact their careers for the rest of their lives.
"We had opportunities over there as far as understanding the practice of anesthesia that you could not get here. We were faced with multiple challenges—environmental issues, a lack of clean water, and the electricity went out a few times—during surgery," Gregory said. "We reused medical equipment that we wouldn't normally reuse, and there were a lot of different critical thinking and problem-solving skills that we learned over there that you can't get in the United States, so I found it extremely beneficial."
"It's the ability to conserve goods, the ability to do our job even in cases when we don't have everything we need," Kohler added. "And a new appreciation for what we have here. There was a seven month old girl who got sick and came into the clinic. We were able to start an IV and provide her with some medicine, but she needed hospital care. It took two hours for the ambulance to get to the clinic, and when they arrived, they asked for one of our oxygen tanks because they didn't have oxygen on board, and they asked for gas money, so it just makes you appreciative for the 911 services that we have here."
"I thought it was eye-opening," Schneider said. "It was cool to see how much we could do with how little we had. Since I've been back, I find myself waiting until I know I need something before I open it now. Like, 'I may not need that. I don't want to waste this.' Because waste is so rampant in the medical system in the United States."
Gregory continued, "It's kind of hard to articulate what we received because it's basically like we gained a new perception that you can't get here. And I think that's invaluable to my anesthesia education."
"Our days started off with a group volunteer meeting, where we got a run-down of how the previous day went and what our day would look like today. It was everyone from the clinic side and the surgery side all meeting together, and someone each morning would give words of inspiration, say a little prayer, and then we'd go on with our days," Schneider said.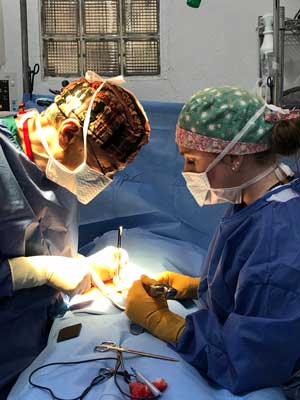 Kohler said a typical day was more than 12 hours long, between establishing preoperative care, assisting with surgeries that, between the three operating rooms, lasted all day, and managing post-operative care for the patients.
"Everyone was just so appreciative that we were there," Kohler said. "We relied on our translators heavily while we were there. The people that we served didn't speak much English, but I feel like what they did know they said often such as, 'thank you' and 'God bless'. Those were the two phrases that I heard most frequently."
All the students want to return to Guatemala someday. Kohler said that she gave a presentation to the second-year anesthesia students about going to Guatemala, and some students are already signing up for the upcoming October trip. "Hopefully this will end up being a big opportunity for current Webster students and graduates. In a couple of years, we'll go back, and we'll be the CRNAs that are watching over the Webster students," Gregory said.
"Our hope is that this will continue with every anesthesia class from here on out," Gregory said. "That a few people will decide to go and have this experience, because we do find it to be very rewarding, and it's just an experience you can't get here. You have to leave the country."