Gunderson Named President of Park University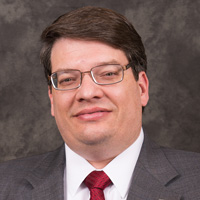 Webster University's vice president and chief financial officer, Greg Gunderson, has been named the new president of Park University in Parksville, Missouri. He begins his new post on Jan. 15, 2016. Gunderson started at Webster in March 2011 and served on the administrative council, provost's council, and worked closely with the president, provost and the board of trustees.
"Greg's list of accomplishments at Webster is exhaustive and impressive, spanning from improved credit ratings to major sustainability achievements. It is, however, a myriad of invisibles which Greg created and nurtured during his tenure that made Webster a better place," said Julian Schuster, Webster University's provost, senior vice president and chief operating officer. "Better not only in a sense of improved efficiencies, but also more transparent, inclusive and collegial. These are not necessarily traits by which an average CFO is remembered – but that is precisely why Greg was never average and why he excelled in his position. He was a great CFO, and he is, I am positive, going to be an even better president of Park University."
"When Provost Schuster and I first met Greg Gunderson, it was clear to us that Webster would benefit from his career experience in university and corporate settings as well as his doctoral degree in higher education administration," said Elizabeth (Beth) J. Stroble, president of Webster. "We were looking for a CFO who brought an interest in partnering with us to focus on quality programs and services, provide transparency in finances and operations, and build resources for a sustainable and thriving future. During this time of great change for higher education, we have been fortunate to partner with a CFO of Greg's character, temperament, and interests. I know I will continue to enjoy a positive relationship with Greg, now as a fellow Missouri university president. On behalf of Webster, I wish him great success and am proud of all that he has and will accomplish."
"I have always considered myself a different kind of CFO," Gunderson said. "I think, in part, that played a role in my selection. I wanted to be part of the academic solution and not just a bean counter. President Stroble and Provost Schuster gave me that chance and helped me to grow and develop. My time at Webster University has been the greatest joy of my career; to be part of a management team that puts student success and quality learning experiences first and foremost in all that it does. I know when I come back in the future to celebrate the many successes in the future of Webster University I will be able to see my impact in many of the improvements we have undertaken in my time here; from a more accessible public safety team, to new and renewed buildings across the globe, to an expanded and empowering endowment. I hope to use this foundation in this new adventure as the president of Park University."
Gunderson's last day with Webster will be Jan. 14, 2016. Members of the Webster community are invited to a farewell reception for Gunderson on Wednesday, Jan. 13, from 1-3 p.m. in the East Academic Building, room 253/262. RSVP to Nancy Higgins at higgins@webster.edu.