Hawkins Named Transitions Coordinator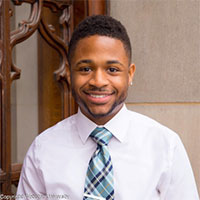 Corey Hawkins has accepted the position of transitions coordinator in the Academic Resource Center (ARC). He will transition from his current position as Coordinator for Minority Students in the Multicultural Center and International Student Affairs (MCISA) on Thursday, Nov. 16 to begin his new role in the ARC.
Hawkins has worked in the MCISA for more than two years and worked in the Office of Admissions for a little more than a year prior to moving to MCISA.
As the transitions coordinator, Hawkins will help students successfully transition to Webster, working closely with Admissions, Financial Aid, Student Affairs offices, faculty members and academic departments, etc. He will build relationships with incoming students; connect them with their peers and Webster faculty and staff members; plan and implement the 10-day, residential summer Transitions and Academic Prep (TAP) program; and ensure that conditionally-admitted first-time freshmen and transfer students with fewer than 30 credit hours have additional, proactive and intrusive supports during their first semesters at Webster. Further, Hawkins will track and evaluate TAP, the Transitions program, and the relevant students' successes in order to develop a cycle of continuous assessment and improvement.
Hawkins has a bachelor's degree in Marketing Management from Southeast Missouri State University and a master's degree in Management and Leadership from Webster University.
Hawkins' goal is to continue building upon the foundational strengths of the position, including student support, success, and advocacy. He is eager to continue established relationships, on campus and in the community, to expand and enhance TAP and Transitions. He encourages those previously engaged with him in the MCISA to continue engagement with him in the Academic Resource Center.
"I'll surely miss working in the Multicultural Center and International Student Affairs office. My time spent working in Student Affairs is irreplaceable, and I am grateful for the many profound interactions I have had over the past few years. I am ecstatic to be combining my experiences at Webster to affect and improve student success as the Transitions Coordinator. TAP and Transitions are essential components at Webster and I am looking forward to meeting the challenges and opportunities they present."