Remembering Helen Hagen '44 and '82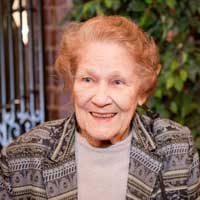 ST. LOUIS - Film and television producer Helen Hagen, who earned degrees from Webster University in 1944 and 1982, co-founded St. Louis Public Television station KETC, and broke ground for women in the world of television, died on Saturday, Jan. 4, 2020, at the age of 98.
She was honored during Webster's 100th Commencement Ceremony in 2015 with an honorary Doctor of Humanities.
"Helen was a groundbreaker in her time, being one of the first female television and film producers in the country and fighting for the public's access to local programming and quality educational television," said Webster University Chancellor Elizabeth (Beth) J. Stroble. "She didn't do it for the accolades, but rather because she felt it helped make her a better person. Even after retiring from the world of television, she continued to pursue her life-long passions. While other's her age planned their retirement years, she earned a master's degree and spent the next two decades serving the community."
Hagen often said that life was a dynamic force that often changed, and people needed to change with it. She frequently said that what a person did for a living was not important -- how that person treated others was important.
"In defense of my own integrity, I admit to being neither a die-hard-writer-producer-or-else kind of person, nor a willy-nilly billowing cloud going in many directions at the same time; for, though I say I do not know what I want to be, in the same moment I say that I can only have this seemingly lax attitude about the 'what' because I do know the kind of person I want to be," Hagen said in an interview published in the "Webster Alumnac" in May of 1965. "Kind implies the soul of being, the 'what' merely designated the format for living. This format can change any time, and if I leave television tomorrow, I take with me the values, the loves, the motivations the ME with me into whatever next move seems challenging and fulfilling. I may run a cheese factory on the moon or a hot dog stand on Mars, but before it opens, I will have been convinced that it is challenging, worthwhile and potentially satisfying."
Hagen admitted in later interviews that she had no firm plans for a career after she finished college. Instead, she followed a curved path that led her to become a groundbreaker in the fledgling television industry.
Shortly after graduating from Webster in 1944, she earned a master's degree in education from St. Louis University while also teaching speech and drama at Webster, St. Louis and Washington universities. At the time, television was emerging as the next breakthrough in mass media and was touted as a potential educational tool. She was encouraged by colleagues to move to New York, where the industry was headquartered at the time, to study the new medium. She took classes at Fordham, Columbia and New York universities to learn about television, and worked as an apprentice at CBS' headquarters in New York during the next several years.
She returned to St. Louis in 1953, and later said she left because New York life didn't suit her. But, she said, she learned a lot in the "Big Apple" including making connections with Oscar-winning documentary film-maker Charles Guggenheim. Working with Guggenheim and others, she helped establish KETC-TV, the first public television station in St. Louis.
During the next three years, she worked at KETC-TV, producing news and children's programming. She is credited with creating "Sunday Morning," which was picked up by 10 affiliates in the United States, making it one of the first major television shows to originate in St. Louis.
During those years, she also worked as a free-lance writer for KSD-TV (St. Louis' first television station), wrote the series "The Great Crusade," which was broadcast on the Catholic-Church owned station KWK for two years, and worked on the production crew of the Steve McQueen film "The Great St. Louis Bank Robbery." Hagen has her own IMDB page as a result.
She was hired by KMOX-TV in 1957 where she produced "Montage," a weekly-half hour show that explored the arts, for more than 10 years. She also produced "The Word: Scripture and Modern Man" for the station, an hourly program that explored the Old and New Testament with Sister Ann Patrick Ware from Webster University and Professor Walter Brueggemann from Eden Seminary. That program ran for more than two years and was broadcast in St. Louis, Chicago, Los Angeles, New York, and Philadelphia.
During this time, she earned many awards, including The St. Louis Council on Human Rights Award in 1960 and 1961, the Medal Award from TV Mirror for the 1959-1960 and 1960-1961 seasons of "Montage," and the Albert and Mary Lasker Medical Journalism Award in 1959.
Life then took a twist for her, as her mother became critically ill. She left television in 1968 and cared for her mother for the next 12 years. During this time, she founded "Women of Webster," a group dedicated to the renovation and landscaping of the Webster campus. She became active in the Webster Alumni Association and helped bring many speakers to campus, including famed CBS journalist Daniel Schorr in 1976. In 1977, Hagen was honored with the Mary Elizabeth Newell Award, which is awarded annually to outstanding alumna of Webster University.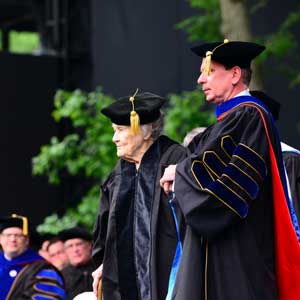 Shortly after her mother passed away in 1980, Hagen reenrolled in college, earning a master's degree in gerontology at Webster University in 1982. She then launched a new career as a social service director, overseeing staffing, grant writing and management efforts to help elderly people in the St. Louis community who needed assistance for independent living or placement in appropriate homes. In conjunction with Upjohn Pharmaceutical company, she established a homecare company and managed the education for the staff, saying her goal, "was to help them become better caregivers and better people." She would continue working into her mid-80s, when failing eyesight made it too difficult for her to continue writing.
That still wouldn't stop her. Instead, she became a well-known hostess, holding fund-raisers and house parties that would attract hundreds of guests to her home. In 2007, she founded the Helen Hagen and Allison Webb Endowed Music Scholarship for Webster students, in honor of her niece who was earning a master's in music at Webster.
She would be honored again by Webster in 2015 with an honorary doctorate during the Centennial Commencement Ceremony. A feature story about her life would also be published that year about her in the national magazine "Spectrum."
Services for Hagen will be held at Kutis Funeral Home, Affton. Visitation will be 6 to 8 p.m. Wednesday, January 8th, 2020 A Funeral Mass will be held at St. Martin of Tours at 10 a.m. Thursday, January 9th, followed by a burial at Resurrection Cemetery.