Student Artist Finds Inspiration and Opportunity in Athens
Study abroad student Maxim Heller, a senior Peace Studies student at Goucher College, a Webster International Network of Schools (WINS) member institution in Baltimore, Maryland, chose to spend his last semester at Webster Athens.
The decision proved to be a life-changing endeavor.
While his passion for volunteer work led him to a social activist group that dedicates their time to crafting creative solutions for abandoned places with the community, Heller's passion for art would be given new life with the help of a local artist.
Within the first two weeks of his semester abroad, Heller met Cacao Rock, a local artist and well-known painter in Athens, who saw something special in Heller's work. Heller then spent time with Rocks, learning from him and assisting him on various projects.
The most recent project Heller worked on was the angel wing murals, titled #citysangels, on display around Athens for the holiday season. Heller assisted with six of the nine #citysangels murals, and is now working on murals to cover the angel wings, since the holidays have passed.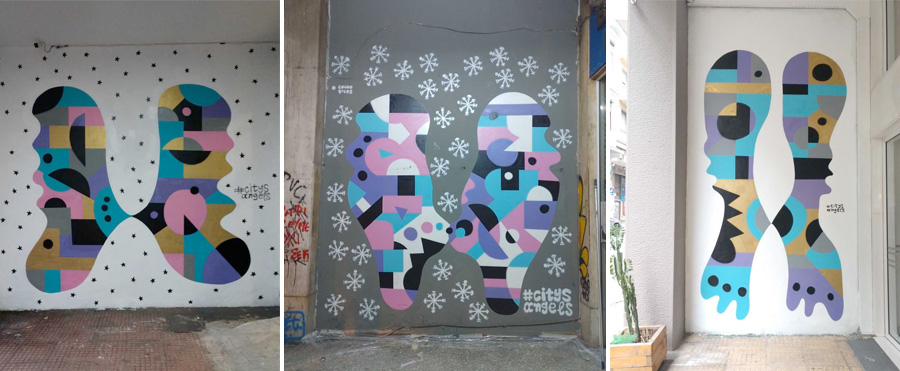 Q&A with Heller: In his own words
A representative from Webster Athens caught up with Heller to ask him how he felt about his work.
Webster Athens: What led you to study abroad at Webster Athens?
Maxim Heller: I chose to study in Athens because I wanted to learn more about the 2008 economic crisis and creative response to financial vacuums. This learning has taken place primarily outside of the conventional academic background, through my volunteer work with Communitism and conversations with the people I meet.
WA: How has your semester been?
MH: These past few months have been, without question, the most exciting chapter of my life. This is the first time that I have traveled outside of the United States. Getting some distance from the place that I have called my home has given me new perspective on the culture in which I was raised. I do not believe that I held particular illusions about the States prior to leaving, but distance has helped me to see both the positive aspects and insidious, negative, aspects of American culture.
WA: Tell us about the art projects you have been working on.
MH: Since coming to Athens I have had the time to really submerge myself in my love, painting. In the past art has been more of a hobby for me. But, it has become a necessary part of processing being away from my friends and family.
My personal project has revolved around painting things I find on the street. On almost every corner there are scraps of wood, abandoned table tops, old windows, items otherwise destined for the land fill. I like to take the things I find back to my apartment and give them new life.
I also have a relationship with an Athens painter, Cacao Rocks. He has become my mentor, taking me on as his assistant. I have worked with him painting commissioned murals and canvasses for exhibitions.
WA: How did the art project come to be?
MH: I don't know why I feel inspired to paint on castaway objects. Something about them speaks to me. Sometimes I see a piece of wood and it doesn't matter how large it is or how far away from my apartment I am, I have no choice but to carry it back with me.
Cacao, I met through the manager of the Allouche Benias gallery in Athens. I went in during my first or second week in the city and fell in love with the paintings in their exhibition. As a self-taught artist, I will often try to learn by copying works that I like. So, I returned with my sketch books and watercolor set. The manager saw what I was painting and liked it, so she put me in touch with Cacao.
WA: Where is your art work displayed?
MH: The art that I have been doing on trash is not displayed yet, but will be in a group exhibition at the Victoria Square project. The opening will be Jan. 22. The murals that I have painted with Cacao are around the center of Athens.
WA: How do you feel about producing art work and seeing it displayed while abroad?
MH: I really like seeing the murals that I have painted. I often get lost while I am walking around, and will stumble across something that we painted. It always gives me a little jolt of excitement and brings back the memories of painting it. I really enjoy the process of using spray paint, so it is a fun surprise."
WA: What are your future goals?
MH: Now that the semester has ended, I have decided to extend my stay in Athens. I have moved into Cacao's studio and will continue painting and finding exhibitions to participate in. I am not sure what the distant future holds. I would like to pursue a career in journalism and human rights law. But for now, my passion is painting, so I will follow it until I can't.
About WINS
The Webster International Network of Schools (WINS) program creates partnerships between Webster University and U.S. universities to provide access to Webster's global campus network.
WINS partners send their students to study abroad at a Webster international campus, and participate in WINS events throughout the year.