Kevin Heuser Named Senior Director of Information Security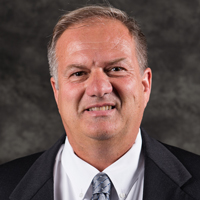 Kevin Heuser has been named senior director of information security for Webster University effective June 1, 2018.
This is a new and important position for the University. The security of the personal information of students, faculty and staff along with University data is a high priority of the University. Heuser brings the special skill sets needed to address this challenge. He will work within the University to raise awareness and develop and implement programs to continually improve data security.
Heuser joined Webster University in 2014 and has led the network technical services and the desktop support teams within Information Technology. Prior to joining Webster, he served as vice president of Information Technology and the IT security officer at Corizon Healthcare.
He holds a MS in Cybersecurity from Webster University, MS in Telecommunication Management from Washington University, and a BA from Nicholls State University in Thibodaux, Louisiana.
In his new capacity, Heuser will be part of the Finance & Administration department and report to the vice president and chief financial officer.