Webster Hosts Summer Institute on Holocaust for High School, Middle School Teachers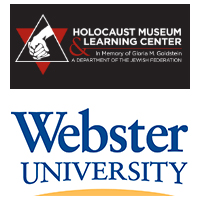 A Summer Institute on the Holocaust for high school and middle school teachers will be held June 17-20, 2018, on the Webster Groves campus of Webster University.
The Institute is sponsored by the Holocaust Museum & Learning Center in St. Louis and will feature Holocaust scholars from Webster University and Washington University, as well as master teachers from Missouri and Illinois. It is designed for educators and advanced students from a variety of disciplines interested in teaching the Holocaust.
Participants will learn about rationales, guidelines, strategies and approaches to this complex subject and will have the opportunity to hear testimony of Holocaust survivors and visit local exhibits.
Registration will be limited to 25 participants to ensure effective community building and collaboration.
Dates: June 17-20, 2018
Location: Webster University in St. Louis, Missouri; one day trip to St. Louis Holocaust Museum & Learning Center.
Cost: $125 per participant. Cost covers meals, materials and transportation to the St. Louis Holocaust Museum & Learning Center.

In-service Graduate credit is available for an additional fee.
Register at: hmlc.org/teacher-institute or contact Warren Rosenblum (wrosenbl@webster.edu), professor and chair, Department of History, Politics and International Relations, for more information.