2017 Alumni Association Award Winners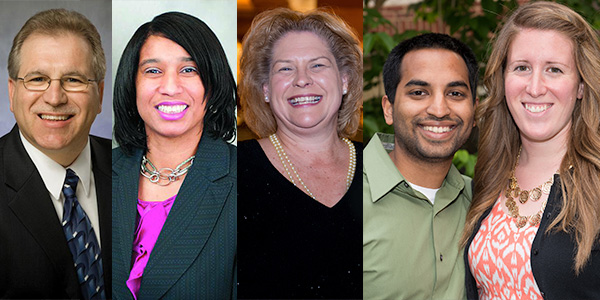 The Webster University Alumni Association has announced Alan O. Freeman, Tracey Jeffries, Ann Harbeson, and Loren and Wakeel Rahman as recipients of its 2017 Alumni Awards, who will be honored at the Annual Homecoming Dinner and Dance on Saturday, Sept. 16.
Loretto Award: Tracey Jeffries, MA '10
This award is presented to an alumna or alumnus who has contributed significantly in service to humanity and social justice. The award was created and intended to continue the recognition of the community service and social justice values of the Sisters of Loretto who founded Webster College in 1915.
Tracey Jeffries is the president and chief executive officer of Capital Consulting Services, in which she provides management consulting services for Economic Development Strategies with government entities to improve the quality of life. Tracey also founded Direct Impact Business Education Center where she provided coaching, professional development and technical assistance to women and veteran start-ups to become viable, profitable and self-sufficient small business owners in the community.
Among her many awards, Jeffries was named one of Inc. magazine's Women in Business top 500 Fastest Growing Business in 2015 and her scope of work became highly recognized as one of the Strategic Planners for the Ferguson Commission Project
Mary Elizabeth Newell Loyalty Award: Ann Harbeson, MA '03
This award is presented to an alumna or alumnus who has demonstrated a high degree of loyalty, commitment and concern for Webster University over a span of many years.
Ann Harbeson is currently the senior project coordinator for Systemax Corporation in Prospect, Kentucky. She is a dedicated healthcare professional with over 30 years of experience. Harbeson's service to Webster University spans over a decade, serving as chapter leader of the Webster University Alumni Association Louisville Chapter for 10 years and hosting the Association's largest Chapter Event – Webster Day at the Downs. She is currently serving her first term on the Alumni Association Board of Directors and makes every effort to travel to St. Louis from Louisville for events and board meetings. Most impressive in Harbeson's years of service to Webster University is her dedication to preserving the history of Webster University and hosting the annual "Spirit Lifter" event which includes a trip to visit the Loretto Motherhouse every Fall. She refers to herself as a "living bumper sticker for Webster University."
Young Alumni Award: Loren Rahman BA '12, MA '12; Wakeel Rahman, BA '13
This award recognizes an alumna or alumnus who promotes the values and elevates the profile of Webster University through leadership in his/her profession, contributions to society through public service and ongoing support of the University. This person must be an alumna or alumnus of Webster University who received his or her undergraduate degree within the last 10 years of being nominated and is 35 years or age or younger.
Since graduation, married couple Loren and Wakeel have directed all of their charitable efforts to Webster University and its mission. After graduating, both Loren and Wakeel continued to support their alma mater by creating the group Alumni in the Community. With Wakeel and Loren's leadership over the past three years, the group has organized more than 30 events like "Life After College" designed to engage the University's young alumni and bridge the gap from student to alumni status. In March of 2017, Alumni in the Community was bestowed official Chapter status by the Alumni Association Board becoming the Young Alumni Chapter.
Both Loren and Wakeel currently serve as directors on the Alumni Association Board of Directors and recently established the Rahman Family Annual Scholarship. There hasn't been a moment where the two were not combing their efforts to further the mission of Webster University, the Alumni Association and elevate Webster's profile within the community.
Distinguished Alumni Award: Alan O. Freeman, MBA '93
This is the highest award given by the Alumni Association. This annual award is presented to an alumna or alumnus who has made specific, meritorious contributions to society through his or her profession and involvement in civic, cultural or charitable activities. This award recognizes high achievement that reflects credit upon the individual and Webster University.
Alan Freeman is president and chief executive officer at Affinia Healthcare (formerly Grace Hill Health Centers, Inc.), a community health center that that serves tens of thousands of medical, dental and behavioral health patients annually. Among the 29 community health centers in Missouri, Affinia Healthcare serves the largest number of uninsured and low income residents. Freeman's professional experience spans 30 years including senior health roles in three hospitals and two community health centers in Missouri. He is currently working to complete his dissertation and attain the Doctor of Management degree at Webster. Freeman is a commissioner with the St. Louis Regional Health Commission and serves on boards of the Missouri Primary Care Association, Missouri Community Health Access, LLC; Missouri Community Health Foundation and Home State Health Plan.
Homecoming 2017: Sept. 15-16
Find out more about Homecoming 2017 and register for events, including the Homecoming Dinner and Dance where these alumni will be honored.