Alumni, Parents, Students Flock to 2016 Homecoming Reunion and Family Weekend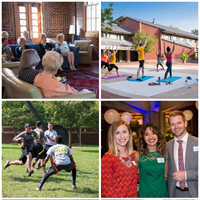 Nearly 500 Webster University alumni, parents and students gathered with faculty and staff for a Homecoming Reunion and Family Weekend that featured arts, "lightning talks," the annual Student vs. Alumni Flag Football Game and more as Gorloks from many eras and generations renewed acquaintances and celebrated their part in the Webster University community.
Among the events, 31 members of the Class of 1966 were welcomed into the Golden Circle for their 50th reunion, while four outstanding alumni were honored with awards from the Alumni Association.
The Webster University Alumni Association honored Mary Ann Wyrsch (BA '56), former President and Executive Director of the Bush-Clinton Katrina Fund and a former United Nations Deputy High Commissioner for Refugees, with the Loretto Award. Stefano Cantini (BA '92, MA '94), a graduate of the Vienna campus, received the Mary Elizabeth Newell Loyalty Award. Kacey Hampton (BA '11) received the Young Alumni Award, and Maarten de Boer (BA '00) received the Distinguished Alumni Award.
Read more about those honorees here.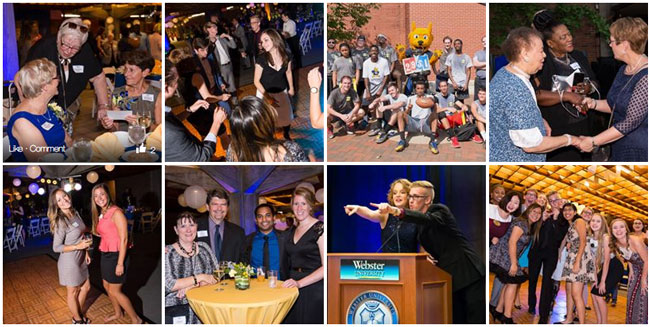 Also among the two-day weekend's 11 events, a squad of current students won the Annual Student v Alumni Flag Football game, 51-29. The Shop, Rock & Glow festival highlighted student and alumni artists and performances. The annual Lightning Talks featured alumni, faculty and advisory board members sharing glimpses of what it's like to work for the Cardinals, sit across the table from the President of the United States and how they are paying it forward.
See more photos from the weekend in this album on Webster's Facebook page.