Snapshots: Human Rights Conference addresses environmental justice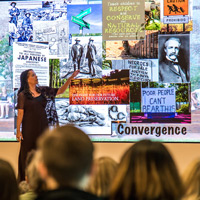 Webster's 10th Annual Human Rights Conference concluded Oct. 12 after two days of intersectional analysis of environmental racism, sexism, classism, and colonialism.
Growing awareness of climate change has led to increasing recognition that human rights and environmental sustainability are inextricably linked. Human rights advocates contend that climate change threatens fundamental rights to health, livelihood, and property, while also infringing on indigenous rights to culture and profoundly impacting the global poor.
The environmental justice movement brings together scholars and activists who are concerned about both environmental protection and social justice, paying particular attention to how vulnerable populations are disproportionately harmed by rising sea levels, deforestation, desertification, fossil fuel extraction and transportation, the disposal of hazardous wastes, air pollution, and a range of other environmental hazards.
The two-day event was the first academic conference held in the auditorium of Browning Hall, the interdisciplinary science building that opened this fall on the main campus in Webster Groves. Webster President Elizabeth (Beth) J. Stroble marked the occasion in her welcoming remarks to attendees. A formal dedication for the building and academic symposium is scheduled for Thursday, Oct. 19.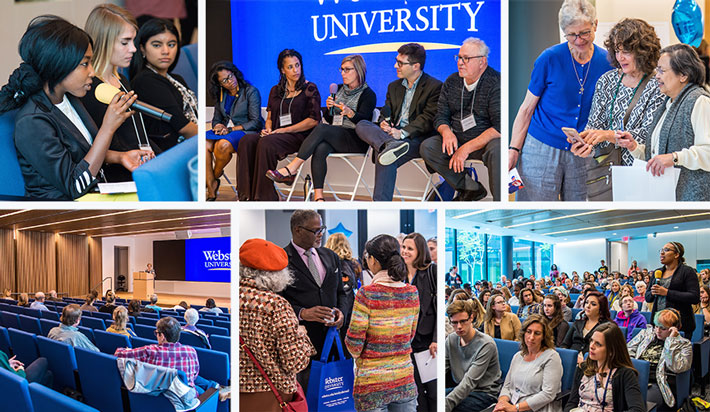 The lineup of speakers for Webster's conference came from across North America to share their work on these issues from a range of perspectives, with an audience that included Webster students, faculty, staff, alumni and guests from the local community:
Sylvester Brown, Jr., founder of the Sweet Potato Project and an award-winning columnist formerly of the St. Louis Post-Dispatch
Alison Carrick, a St. Louis-based independent filmmaker and writer
Jaskiran Dhillon, an academic and advocate who grew up on Treaty Six Cree Territory in Saskatchewan, Canada
Carolyn Finney (keynote speaker), an author, performer and cultural geographer at the University of Kentucky. Finney is the author of "Black Faces, White Spaces: Reimagining the Relationship of African Americans and the Great Outdoors," and serves on the U.S. National Parks Advisory Board.
Marnese Jackson, the NAACP regional environmental and climate justice organizer for the Midwest and Plain states
Reverend Elston K. McCowan, the first vice president of the St. Louis City NAACP and chair of its Criminal Justice and Prison Committees
Bruce Morrison, general counsel for Great Rivers Environmental Law Center, a nonprofit, public-interest environmental law center located in St. Louis
Sarah Jaquette Ray, associate professor of Environmental Studies at Humboldt State University in Arcata, California, where she also leads the Environmental Studies BA program
C.D. Stelzer, an award-winning investigative journalist who first began reporting on nuclear waste in 1991 for the Riverfront Times
Carl Zimring, an environmental historian and professor of Sustainability Studies in the School of Liberal Arts and Sciences at Pratt Institute in Brooklyn, New York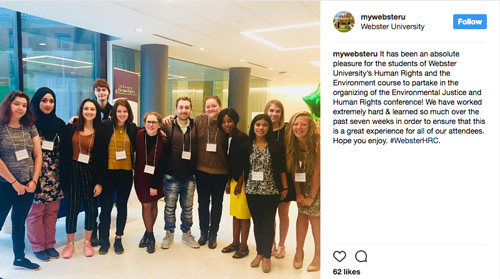 The second day concluded with a panel discussion among conference presenters before Carolyn Finney's keynote address, "Reclaiming Our Time: Black Faces, White Spaces and the Possibility of Us."
In addition to Webster professors Lindsey Kingston and Kate Parsons, a team of students from the Human Rights and the Environment course helped organize and execute the event, including one who shared glimpses of the conference through a "takeover" of the MyWebsterU Instagram account.
See more photos from the event in this Webster Facebook album. Participants engaged via social media with the hashtag #WebsterHRC.
Resources