Human Rights Conference 2016: Equality Before The Law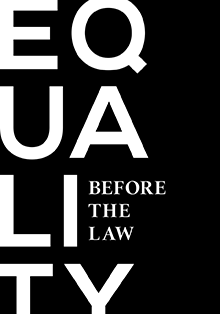 The Webster University Institute for Human Rights and Humanitarian Studies will present its 9th Annual Human Rights Conference on Sept. 28 and 29, 2016, on Equality Before The Law.
The event will be held on campus in the East Academic Building, 545 Garden Avenue. The conference will run from 11:15 a.m. to 4:45 p.m. on Sept. 28, and 9:30 a.m. to 8 p.m. on Sept. 29.
It is free and open to the public.
The keynote address, "Ferguson to Geneva: A Human Rights Framework for the Movement," will be given by Justin Hansford, associate professor at Saint Louis University School of Law.
Living just 10 minutes from Ferguson, Hansford has been at the forefront of legal organizing and advocacy in the aftermath of the murder of Mike Brown. He co-authored the Ferguson to Geneva human rights shadow report and accompanied the Ferguson Protesters and Mike Brown's family to Geneva, Switzerland, to testify at the United Nations.
'All Are Equal Before the Law'
The universal human right to equality before the Law protects all people from discrimination in matters related to laws and justice. Article 7 of the Universal Declaration of Human Rights states: "All are equal before the law and are entitled without any discrimination to equal protection of the law." Thus, everyone must be treated equally under the law regardless of characteristics such as race, gender, ethnicity, religion, or disability.
The conference will also feature plenary sessions focusing on how equality before the law plays out on many levels, including in the municipal courts, with the innocent, the victims of rape and abuse, the Trans Community, in technology, and with immigration:
"Colorblindness, Equality and other Fairytales," by Kimberly Norwood, professor of law, Washington University Law and author of Ferguson's Fault Lines: The Race Quake that Rocked a Nation.
"How Municipal Courts Violate Constitutional Rights and Erode Trust to Raise Revenue: What is Happening and What Can Be Done about It," by Michael-John Voss, co-founder, Arch City Defenders
"Finality over Fairness: The Role of Innocence in the U.S. Criminal Justice System" by Tricia Bushnell, legal director, Midwest Innocence Project
"Legal Advocacy on Behalf of Rape and Abuse Victims," Amy Lorenz-Moser, Carpenter Moser LLC
"Challenges and Opportunities Facing the Trans Community Today," Jaimie Hileman, board president, Metro Trans Umbrella Group
"Building Technology for Human Rights at the Grassroots Level," Vivek Srinivasan, researcher, Stanford University
"Challenging Boundaries: An Informal Discussion on Immigration Issues Featuring Webster Faculty & Students"
New Event: Faculty Panel on Immigration and Refugees
In an event added after the original schedule was published, Webster faculty will have a panel discussion, "Challenging Boundaries: An Informal Discussion on Immigration" on immigration and the rights of immigrants and refugees. Each panelist will serve as an informal representative of their country of origin and/or as an engaged world citizen who is invested in this topic.
This discussion will be held on Thursday, Sept. 29 from 3–4:15 p.m. in EAB 253-262. It is moderated by Julie Setele, assistant professor of Sociology and Institute for Human Rights & Humanitarian Studies fellow. Faculty and their countries of origin include: Pinar Alakoc (Turkey) History, Politics & International Relations; Lionel Cuille (France), International Languages and Cultures; Jubin Goodarzi (Iran), History, Politics & International Relations; Gad Guterman (Colombia), Conservatory of Theatre Arts; and Muthoni Musangali (Kenya), Professional Counseling.
See the full conference schedule here.