Spriggs Leads Human Services Graduate Program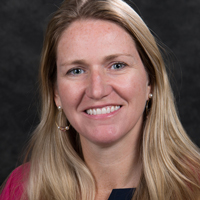 Melissa Spriggs, assistant professor at Webster University, has been named director of the human services graduate program offered in the Nursing Department of Webster's College of Arts & Sciences.
Spriggs has been involved in the program since Fall 2015 and served in several capacities including as the lead academic advisor, an adjunct professor, and as the program coordinator and part-time lecturer.
Spriggs has worked in the human services field for over 20 years in the areas of disabilities services, substance abuse, juvenile corrections, mental health and several educational settings. Spriggs holds a master's degree in counseling from Western Illinois University and a doctorate in counseling from George Washington University.
As coordinator of the Human Services program, Spriggs has managed student inquiries, advising, and orientation, as well as the hiring and mentoring of new adjunct instructors. She has taught several courses in the program, including the culminating field experience. Enrollment in the program has grown under Spriggs' direction.
"Melissa brings positive energy to this program," said Janice Palmer, chair of the Nursing Department. "We are looking forward to seeing where she leads it."
Spriggs' office is located in Browning Hall 404 and she can be reached at melissaspriggs55@webster.edu, or by phone at extension 3197.
About the Human Services Program at Webster
Informed by Webster's core values of inclusivity, social justice and global perspective, the human services curriculum teaches graduate students how to assist and empower diverse individuals, groups, families, and communities in need of assistance. Human services students learn to challenge their interpersonal assumptions and develop a culturally-competent approach to caring for all who need it.
Click here to read about specific program requirements, learning outcomes and how to apply.