Webster Hosts Understanding and Combatting Human Trafficking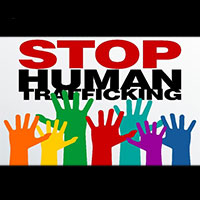 Interested in learning how human trafficking affects this community, and how you can help address this issue?
Human trafficking is forced labor and it occurs every day in our area. Yet the signs of it are often hidden from plain view.
Webster University's Legal Studies Department and the Legal Services of Eastern Missouri will co-host "Understanding and Combatting Human Trafficking," presented by The Archway (MO) Chapter of The Links, Incorporated at the Webster Groves campus in the Winifred Moore Auditorium Saturday, March 25, from 9 a.m.- noon.
This event is open to the public, but seating is limited. Register here if interested in attending.
Refreshments will be served. Hand-made items from survivors of human trafficking will be available for purchase from Made For Freedom and Magdalene House, two organizations fighting against human trafficking. Volunteer opportunities will also be offered through the Healing Action Network, the International Institute, and The Women's Safe House.