Snapshot: Hungarian-Missouri Educational Partnership graduation party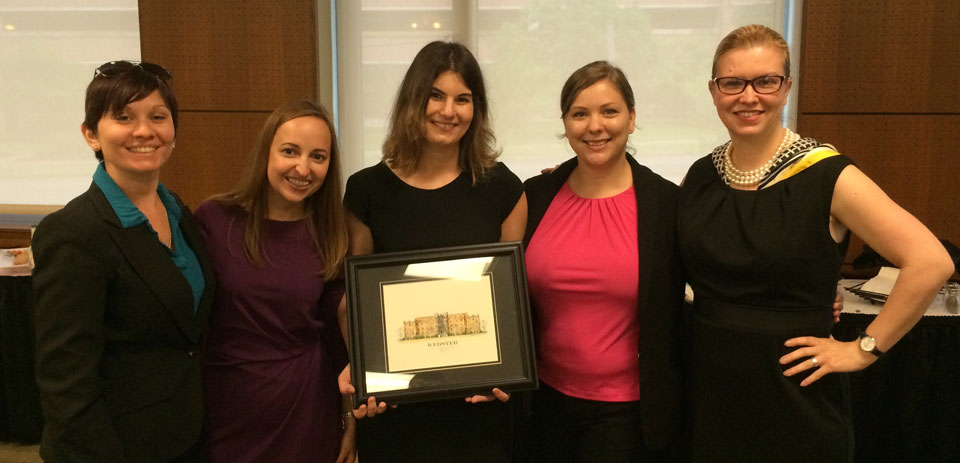 The Hungarian-Missouri Educational Partnership (HMEP) held a graduation party on Monday, May 9, at the East Academic Building. One of the HMEP graduates celebrated was Webster international student Agnes Bendsak (MBA/BUSA).
Webster University Provost Julian Schuster and interim dean of Webster's George Herbert Walker School of Business & Technology Thomas Johnson also attended the event.
In addition to Webster University, other HMEP partner universities included Saint Louis University, University of Missouri-St. Louis and Washington University. Representatives from these institutions attended the graduation party, along with J. Joe Adorjan, chairman of HMEP; George Herbert Walker III, former U.S. Ambassador to Hungary; and other supporters of the HMEP organization.
About HMEP
The mission of the Hungarian-Missouri Educational Partnership (HMEP) is to create global connections through a scholarship program and related activities for participating universities while creating a life changing experience for student scholars. The HMEP provides full tuition scholarships for graduate students from Hungary and other former communist countries of Central Europe. Scholarships are at the heart of the program, bringing promising Hungarian college graduates to the U.S. for post-graduate study at leading Midwestern business schools.