Hunt Gallery Exhibition: 'palaisdesbeuxarts.at'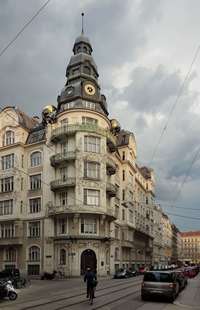 The name Palais des Beaux Arts is a multiple. Popularized in the 19th century as an architectural container for primarily Western European aristocratic wealth and its colonial exploits, this dangling signifier continues to be emptied and filled with varying degrees of intensity across the globe – Madrid, Belgium, Mexico City, Rio de Janeiro, Lille, Vienna, and now St. Louis.
For their work in the Hunt Gallery, Palais des Beaux Arts Wien has scaled their website to the limits of the gallery's walls, treating the light from the browser as a sculptural material. Conceived of as an automated score, the sculpture cycles through a selection of newly commissioned artworks from the collection, lifestyle fragments, archival materials surrounding the family that founded the Palais des Beaux Arts Wien, as well as some of the administrative cul-de-sacs that the institution underwent while occupied by the Nazis.
Using the process of browsing as a choreographed, cinematic gesture, scrolling is suspended in space and instead thought of as frozen and contemplative. Here, a promotional backdrop assumes multiples roles of occupation, questioning how artistic intervention can apply pressure to larger technological, aesthetic, and political surfaces, if at all.
Opening Reception March 22, Exhibit through April 19
The opening reception is Friday, March 22, from 6-8 p.m., with remarks by the artist at 6:45 p.m. in the Hunt Gallery located in the Visual Arts Studios (VAS) on the Webster Groves campus.
The show will remain open Tuesdays-Saturdays from 10 a.m.-5 p.m. through April 19, 2019.