Remembering Betsy Schmutz, Retired AVP and Chief Human Resources Officer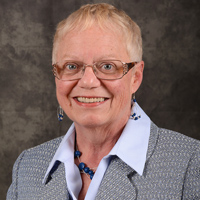 To the Webster University Community:
We are very sorry to share with our community the news of the passing of Betsy Schmutz on Friday, May 1.
Betsy was associate vice president and chief human resources officer when she retired in December 2017 after 16 years with Webster. She was also a Webster alumna, having earned her MA in Management here with distinction.
Betsy led Webster's human resources and served on the leadership team through times of transformative change. She was a trusted colleague and friend to so many. Colleagues recall Betsy's professionalism, tireless dedication, and wholistic approach to assessing future needs. She promoted inclusive leadership and collaboration in efforts to enhance the workplace experience for our community. One of her last and proudest contributions before retirement was working with Webster Staff Alliance to develop a Staff and Administrator Parental Leave Policy.
She was also known for her commitment to community equity and social justice, serving nonprofit organizations including Beyond Housing and the Diversity Awareness Partnership.
A private family service is planned with a celebration of life to be held at a later date. In lieu of flowers, memorial contributions may be made to the Diversity Awareness Partnership in St. Louis, Missouri, or the Daniel C. McShane Memorial Scholarship at Brebeuf Jesuit Preparatory School in Indianapolis, Indiana. See the obituary here for additional information.
Elizabeth (Beth) J. Stroble
Chancellor
Julian Z. Schuster
President