Webster University Remembers Alumna, Scholarship Donor Doris Federhofer '38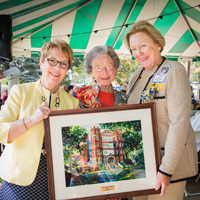 The Webster University community mourns the passing of longtime Webster alumna Doris Federhofer '38 at age 102.

Doris had planned to attend this month's Reunion Weekend and Golden Circle luncheon, which would have celebrated the 80th reunion of her Class of 1938.

Doris' relationship with Webster began in 1934 when she arrived on campus as a scholarship student. She hailed from her family's farmhouse near Peoria, Illinois—a home with no electricity and a pot belly stove. For the past 80 years, Doris has served as alumni association matriarch, volunteer, donor and Webster's most ardent cheerleader.

In sync with Webster initiatives to serve students beyond St. Louis, Doris and her husband, Earl, extended their own international influence following retirement. The couple served in developing countries for 30 years through The International Executive Service Corps, furthering its mission of promoting prosperity and stability through private enterprise development. For Doris, this work was merely an extension of the Sisters of Loretto legacy—providing education wherever that need exists.

Doris and her husband were longtime supporters of the Sisters of Loretto Founders Scholarship as well as annual scholarships in the School of Communications; the couple also were legacy society members.
In 2013, Doris was recognized for all of her service and was awarded the University's Mary Elizabeth Newell Award for loyalty.
Hear Doris in her own words in 2012, as she shared her story of what a Webster scholarship meant to her life and why she sought to provide the same opportunity for others.

A memorial mass is
planned for October at St. Martin of Tours, details to follow.