George Herbert Walker III: Webster University Community Remembers Chairman Emeritus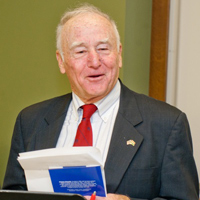 George Herbert Walker, III, a St. Louis businessman who counted two U.S. presidents as cousins, served as the United States' ambassador to Hungary, and has a school named after him at Webster University, passed away on Jan. 18, 2020. KMOX AM radio reported the news Wednesday morning. He was 88 years old.
Walker served on the boards of numerous companies and non-profit organizations, including more than four decades on Webster University's Board of Trustees.
"We are saddened by the news of the passing of Webster Board of Trustees Chair Emeritus Bert Walker," said Rob Reeg, chair of Webster's Board of Trustees. "He was an icon of this community, and we are grateful for all that he did for Webster University across his lifetime and career."
Born into an influential family in St. Louis, he graduated from Yale University in 1953, and earned a law degree from Harvard University in 1956.
He served in the U.S. Air Force from 1956 to 1958, as staff judge advocate at Wright Patterson Air Force Base in Dayton, Ohio. He also served as the Civilian Aide to the Secretary of the Army from 1974 to 1977. In 1958, he returned to St. Louis to work for G.H. Walker & Co., which was founded by his grandfather. That company is now part of Merrill Lynch. He joined Stifel, Nicolaus & Company in 1976 and rose to become the President and CEO of the company within three years, while also overseeing the company's listing on the New York Stock Exchange.
Over the years, Walker served on the boards of directors for Laidlaw International, Macroeconomics Advisors Inc., the Midwest Stock Exchange, the Western-Southern Life Insurance Company, and on the Regional Firms Advisory Committee for the New York Stock Exchange. In 2007, he became a general partner at the Danube Fund.
In 1974, he became a trustee at Webster University, a position he retained until he stepped down in 2016. During his 42 years on the board, he served as chair twice -- from 1987 to 1992 and again from 2008 to 2009. Upon Walker's retirement from the board's chairmanship in 1992, the Board of Trustees established the "George Herbert Walker III Prize for Leadership Award," an endowed scholarship that recognizes a graduating senior who has demonstrated the most significant combination of academic achievement and leadership during their student years at Webster University. Webster's Board of Trustees also bestowed the title of Chair Emeritus to Ambassador Walker.
"Bert Walker and Webster University have been inseparable for a long time – his vision, hard work, mentorship, friendship and support laid a foundation of Webster's journey," Webster President Julian Z. Schuster said. "His numerous contributions can be easily noted in Webster's past, but more importantly, our university future will continue to be guided by Bert's wisdom and generosity."
Outside of board activities, Walker was a member of Webster's 1915 Society and the Legacy Society; served on the advisory board for George Herbert Walker School of Business & Technology; and was a member of the advisory board of the Webster Society from 2000 to 2001.
In 2001, Walker donated $1 million to Webster University. Then in 2005, because of his generous gift of $10 million to the school and University, Webster University's School of Business was renamed the George Herbert Walker School of Business & Technology.
"The stories of great universities are known through those whose commitment advanced their missions and who used their voices to amplify their graduates' successes. Bert Walker was such a man for Webster," said Webster University Chancellor Elizabeth (Beth) J. Stroble.
"He was a vigorous champion for student leaders and for expanding Webster's academic programs and services in ways true to our local and global missions. As a result, Webster College took the bold step of embracing university status in 1983, one of the many marks of leadership that sought broader horizons for Webster's impact and reputation. We will always remember the generosity of Bert's transformational gifts in the early 2000s, the impact of which endures in the name of the Walker School of Business & Technology. He will be greatly missed."
Walker has been honored numerous times over the years. He received an honorary Doctorate of Law from Webster University in 2004. He also earned honorary degrees from the University of Pecs and St. Istvan University, both located in Hungary. Walker served as commencement speaker at Webster's Vienna campus in 2005, was a speaker for the Walker School of Business & Technology speaker series in 2007 and was named a Webster Society Visionary Award Winner in 2009.
Walker's community service extended beyond Webster University. While his cousin George H.W. Bush ran for president of the United States in 1992, Walker ran as the Republican candidate for Missouri's Second Congressional Seat but lost to fellow Republican Jim Talent. He would later serve on the board of John McCain for Senate in 1998, George W. Bush for President campaign in 2000, Bush-Cheney in 2004, John McCain-Sarah Palin in 2008, and Mitt Romney for President in 2012.
In 2003, his cousin-once-removed President George W. Bush, appointed Walker as ambassador to Hungary, a position he served until 2006.
In St. Louis, Walker has served as chairman of Downtown St. Louis, Inc. (now the Downtown Partnership) and headed the Alexis de Tocqueville Society of the United Way of Greater St. Louis in 1994. He also served as chair for the Missouri Council for a Better Economy. He was a Board Member of the Missouri Historical Society, serving as Chairman from 1994 to1997. He was a Board Member of the Urban League of Metropolitan St. Louis and Commissioner and Treasurer of the St. Louis Science Center.
He most recently served as chairman of the "Better Together" project in 2017-2019, a campaign to unite the city and county of St. Louis into a regional government.
He was a member of the Advisory Board of the Siteman Cancer Center, and on the board of the Rely on Your Beliefs Fund. He served on the Board of the International Democracy Transition Center headquartered in Budapest, Hungary. Because of his social work, he received the Man of the Year Award from the St. Louis Variety Club in May 2011.
Walker is survived by his wife, Dr. Carol Banta Walker; four daughters, Mary Elizabeth Bunzel of New York City; Wendy Cleary of Sag Harbor, New York; Isabelle Walker of Santa Barbara, California; and Carter Walker of Bozeman, Montana. He also had two stepdaughters, Hilary Roche of Boca Raton, Florida, and Paige Martin of Mill Valley, California; a son, George H. Walker IV of New York City; a stepson, John Martin of Kennebunkport, Maine; a brother, Ray Walker of Brattleboro, Vermont, and a sister, Betty Holden of Black Mountain, North Carolina, and 16 grandchildren. A memorial service will be held at 11 a.m. Feb. 22 at St. Peter's Episcopal Church in Ladue.