Remembering Irv Rubin, organizational development pioneer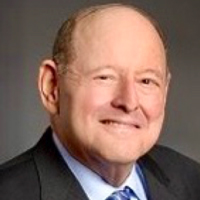 Webster University mourns the passing of Irv Rubin, an adjunct faculty member and pioneer in organizational development. At the time of his passing on Jan. 20, Rubin was in the third week of teaching two of his favorite organizational development courses in Webster's George Herbert Walker School of Business & Technology.
Rubin was "one of the greats in our professional field," wrote Jeff Haldeman, Webster faculty member and program lead. "Irv was truly a master teacher, and so much more. He had a unique way of empathizing with his students, while drawing-out their best."
Considered one of the founders of modern organizational development, Rubin wrote and published numerous professional articles and books throughout his career. His textbook, "Organizational Behavior: An Experiential Approach," originally co-authored with David Kolb and James McIntyre, was the first experiential text of its kind. Many editions followed since its introduction in 1974. He held a PhD in organizational behavior from the MIT Sloan School of Management.
Rubin was the founder and longtime CEO of the behavioral leadership and team performance consultancy Themenos, Inc., now known as BehavioralOS. He often cited the firm's mission statement: "…to help people gain awareness of their own behavior and its consequences to create win-win relationships that improve collaboration, increase productivity and ultimate promote world peace and prosperity…one relationship at a time."
"Doc Irv," as he liked to be called by his students, was "beloved by all who came in contact with him," Haldeman wrote. "He championed the underdog yet saw the best in everyone. The one thing he couldn't abide was arrogant, pretentious people: 'Love the people; hate the behavior,' he would say. The theme of his personal and professional life became, 'how to give effective feedback.'"
On this topic, he loved telling stories of bosses who delivered negative feedback with the rejoinder, "It's nothing personal." "C'mon," he would say: 'It's all personal!'"
As a faculty member, Rubin emphasized building relationships with students.
"If students were at risk, he built a relationship with them," Haldeman wrote. "He would be both candid and kind with his feedback. He wanted his students to become learners and professionals yet remain children at heart. Irv would always say that 'kids are honest about their feelings. They don't know how to be inauthentic until they become more exposed to the adult world.'
"For his students, he wanted intelligent expression of thoughts, feelings, and behaviors. That was the whole person, in his mind. He wanted his students to relate to others as whole people, not roles. "Person-to-person interaction is the way you change behavior, one person at a time."
The University community expresses condolences to his family, friends, colleagues and students.